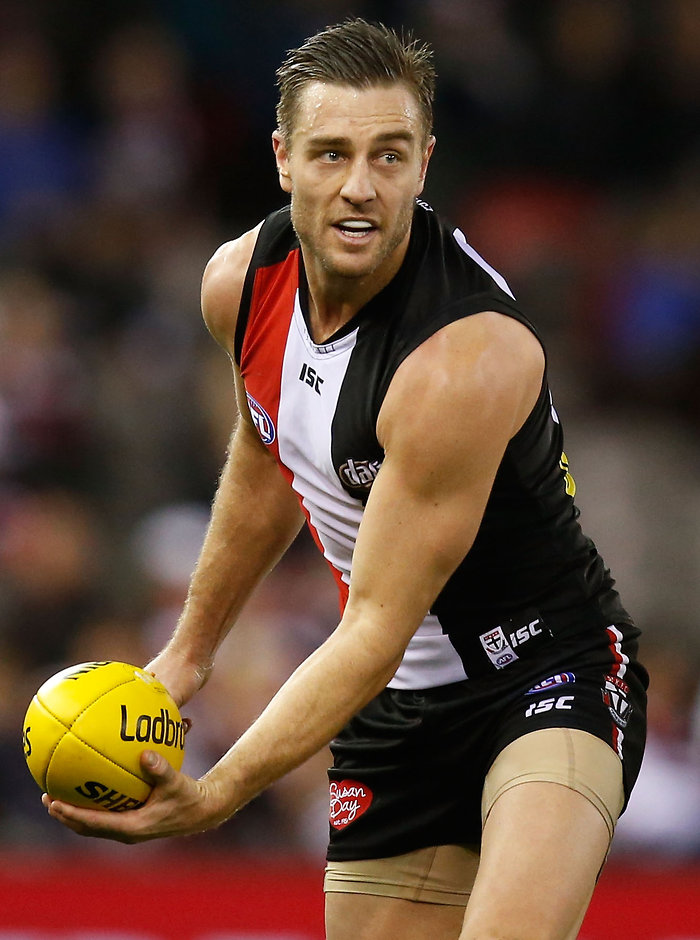 I knew once I got fit that I wanted to play another year.
Sam Fisher
HAVING missed the second half of the 2013 season with a toe injury and the first four months of 2014 with hamstring and recurring back complaints, Sam Fisher's career was at the crossroads last year.
On the wrong side of 30 and plagued by consistent and frustrating physical ailments, the two-time St Kilda best and fairest winner faced an uphill battle to rejuvenate his career.
He returned to face North Melbourne in round 17, 2014 after a string of VFL games and was solid in a heavy defeat.
A week later he collected 21 disposals and took 11 marks against Fremantle in the upset of the season, before remaining fit for the final five games of the year.
SPECIAL FEATURE VIDEO: Fisher meets Kei Nishikori
His last ditch effort of seven consecutive matches was enough to see him rewarded with a one-year contract and, in lieu of Lenny Hayes' retirement, Fisher became St Kilda's oldest player ahead of the 2015 campaign.
Strength and Conditioning Manager Josh Low worked closely with Fisher throughout his rehab and even sought expert opinion from the Australian Institute of Sport.
"We started off by trialling a few different things and actually went up to the AIS to see an expert," Low told SAINTS.com.au.
"He gave us some feedback and we agreed, so we increased the volume of weights he was doing. That is a little bit odd for an older player but we changed it to be really specific for what he needed. We stayed with that plan for a long period of time and his resilience built up really well."
While some veterans function better with a managed weights load and more rest and recovery, Fisher's 2015 season - in which he played 18 games - suggests there was a strong correlation between hours in the gym and hours on the field.
"Every player has their own weights program with the older players having modifications based around injuries they've had in the past," Low said.
"Lenny Hayes increased his weights as he got older and older, largely because he had a few knee issues. But we found out that worked best for him. In the last four or five years Rooey (Nick Riewoldt) has increased his gym work. There are weeks when he needs rest, but whenever we can we try to keep the volume up.
"We really worked on Sam's glutes and getting him strong through range. He was previously really strong in a limited range but not great through a larger range. He was very diligent in improving his mobility."
RELATED: Fisher relished mentoring role
Fisher, despite his injury woes, was always determined to play on in 2015 and if possible into 2016.
He played his 200th game against Gold Coast in round two and was ranked fourth at the club for total marks. The 33-year-old also finished ninth in the Trevor Barker Award, his first top-10 finish since 2012.
"I knew once I got fit that I wanted to play another year," Fisher said upon re-signing for his 12th AFL season in September.
"I played 18 games this year and played OK I think. From my end I was always pretty confident I could get another year out of this body of mine.
"When I started having a few troubles with my hamstrings we put a specific focus on my leg weights and strengthening the core muscles around that area. I think it had a big effect."
From a purely work rate and conditioning perspective, Low could not speak highly enough of Fisher's diligence in getting his body right after two frustrating years.
"Even when he was on leave, he spent plenty of time getting it right so his legs were strong and ready for a full pre-season," he said.
"The power is the performance side of it, whereas the mobility and strength is about the injury prevention side of things. We're hoping to do the same thing again… his commitment to first his rehab and then his strength work has been second to none."
Fisher will return from leave alongside the rest of the five-plus year players on November 23.
He has played 216 games and was named on the half-back-flank in the 2008 All-Australian team.
RELATED: Play golf at Sandhurst Golf Club
Sam Fisher worked tirelessly on the track to get his body right for 2015.
(function(d, s, id) { var js, fjs = d.getElementsByTagName(s)[0]; if (d.getElementById(id)) return; js = d.createElement(s); js.id = id; js.src = "//connect.facebook.net/en_GB/sdk.js#xfbml=1&version=v2.5&appId=66316020565"; fjs.parentNode.insertBefore(js, fjs); }(document, 'script', 'facebook-jssdk'));