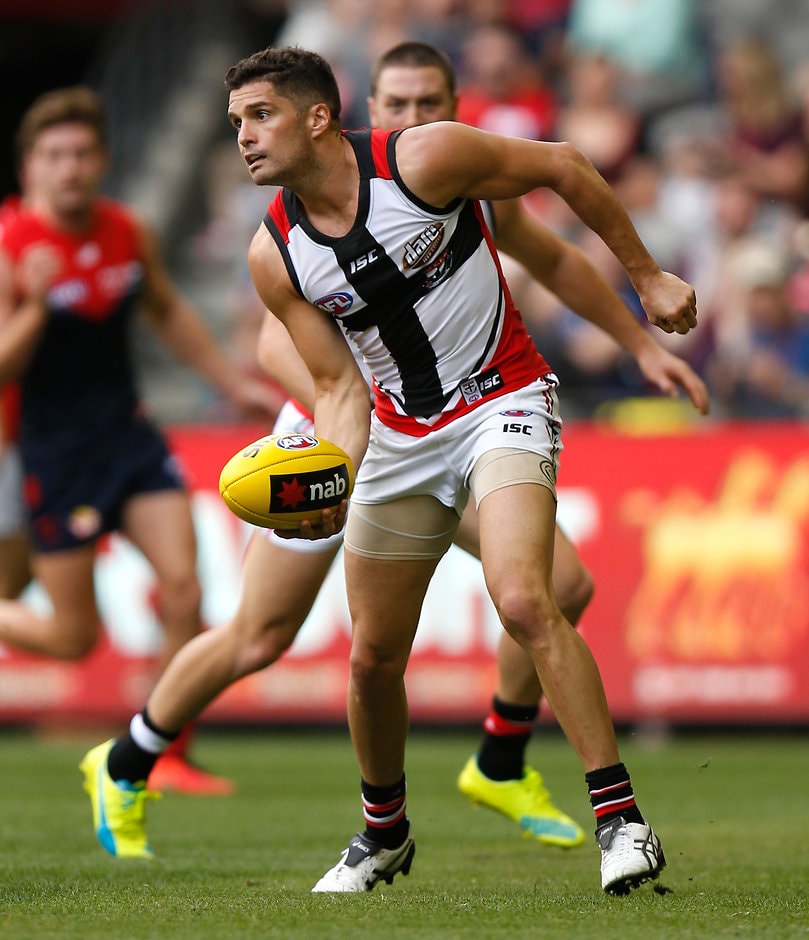 Certainly Nick and I are keen to play in another finals campaign, that's something we're still striving to do.
Leigh Montagna
Recently re-signed St Kilda star Leigh Montagna says his latest contract might not be his final deal, with the lure of another finals date with his beloved Saints driving him to wring out every last drop of his football career.
The 32-year-old signed a one-year contract extension last month which will take him into a 16th season in red, white and black in 2017, and if he plays beyond that he could potentially join Nick Riewoldt and four other club greats in the 300-game clique.
"It is unlimited, that's too far to tell. I'm really happy to go ahead next year. It's great the club have shown faith in me to play for another 12 months after this season," Montagna told Fox Sports' AFL Tonight on Monday.
"Certainly Nick and I are keen to play in another finals campaign, that's something we're still striving to do."
With an abundance of high-end youth parking their cars at the Linen House Centre on a daily basis, Montagna is buoyed by the state of the Saints list, but believes it's the entire club's desire to improve that will drag the on-field success with them.
"We think we've got a good enough young group; we know we've got a big responsibility as leaders to try and harness that and try and improve them a bit more rapidly," Montagna said.
Order your limited edition Rooey 300 guernsey
"It's a whole development plan for the whole club, right from the coach to the assistant coaches to the development staff and the leaders.
"We're all in this together and we're trying to develop these young guys to increase their improvement a little bit more rapidly so we can play finals sooner rather than later.
"That's the aim and at the moment we're on the right track, we've got a great coach that's really driving that. Hopefully we keep learning and improving and things look up pretty soon."
Monday Wash Up: NAB Challenge 3 v Melbourne
The format and function of the pre-season competition has been debated throughout this year's NAB Challenge, with some calling for the amount of games to be reduced and others suggesting the entire event should be scrapped with no formal practice matches prior to Round 1.
Montagna believes the current format is suitable ahead of a home-and-away campaign, with the three-game setup allowing most players to get two games under their belt prior to Round 1.
"The format of the NAB Cup, I think everyone's pretty comfortable with it," Montagna said.
"I know most of the players and the clubs agreed a three-game format, where most players will play two games is probably the right amount leading into the home and away season.
"Whether they're practice games or a competition I think that's irrelevant for the players it's just getting that match practice in for the players ahead of Round 1."