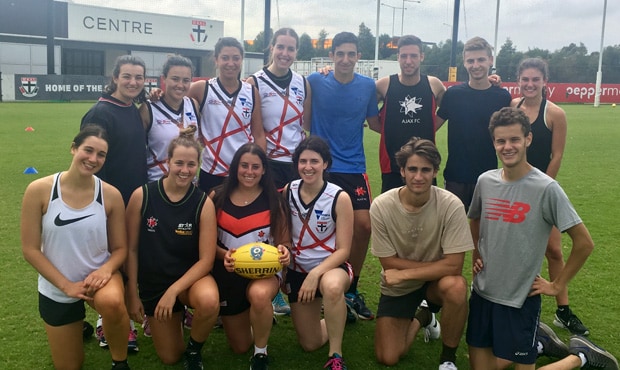 While Nathan Brown, Jack Steele and Jake Carlisle have already made their debut in the red, white and black, there are set to be a few more fresh faces repping the colours on Sunday.
St Kilda Football Club have signed on as the official sponsor for the Jewish team in the Unity Cup.
The Unity Cup is a yearly tournament which sees teams from all different cultural and religious backgrounds come together for an AFL round robin.
The 'Jew Crew' team manager, Ryan Kuperholz, said he was extremely encouraged by the support shown by the Saints.
"We were ecstatic when we learned that St Kilda had elected to support us," Kuperholz said.
"It gave us new purpose and legitimacy. Up until now, it had just been my Mum and I trying to ensure that the Jewish community was represented.
"Now I feel like we are more than just a bunch of mates playing. We are a proper team with support and a facility to train at. The Saints are invested in our success and it feels great."
St Kilda Football Club General Manager of Community Lisa Laing said she was thrilled to be assisting in the Jew Crew's journey toward the Unity Cup.
"The aim of the tournament is to break down cultural barriers, which is a mission that we really identify with as a club," Laing said.
"We're constantly striving to bring people from all different backgrounds, ethnicities and socio-economic communities together through football and this is just another extension of that.
"We've loved having the Jew Crew at our Seaford facility for training and we're proud to have them in our club colours."
The Unity Cup is set to be held at J.J Holland Park in Kensington this Sunday 2 April. First bounce will take place at 9am with the tournament to conclude with a grand final match at 3pm.
There will be a wide array of food options on the day, as well as children's entertainment.
The Unity Cup is presented in conjunction with the AFL Multicultural Program and the Australian Federal Police.