3:20pm AEST
Sunday 23 April
Etihad Stadium, Melbourne
Gates open: 12:30 pm
Women's Curtain Raiser: 12:45 pm St Kilda v the Australian Defence Force All Stars. Find out more here.
Post-game: Kick on with Pepper Money! This Sunday is only the second time this season you'll have the chance to have a kick with your mates on the ground after the game and we'd love for you to join us.
BROADCAST
TV: Chanel 7 (LIVE), Fox Footy (LIVE)

Click here for full broadcast guide
LAST FIVE TIMES
R14, 2016, St Kilda 14.9 (93) d Geelong 13.12 (90) at Etihad Stadium
R21, 2015, St Kilda 14.13 (97) drew Geelong 15.7 (97) at Etihad Stadium
R13, 2014, Geelong 20.13 (133) d St Kilda 5.7 (37) at Simonds Stadium
R18, 2013, Geelong 21.11 (137) d St Kilda 5.6 (36) at Simonds Stadium
R21, 2012, Geelong 18.15 (123) d St Kilda 11.15 (81) at Etihad Stadium

ST KILDA V GEELONG
KIDS UNDER 15 GET IN FREE!
Over 15 years of age? There is still time to get your tickets before we take on the Geelong Cats. You can get your tickets at the game or pre-purchase through Ticketmaster here. Your ticket will also give you access to the women's game commencing at 12:45 pm (St Kilda v the Australian Defence Force All Stars).

SAINTS CLUB HUB, GATE 5
It's only Round 5 and we are still selling membership for the 2017 season. We need your help to get us to the 42,000 mark! For all membership sales and enquiries (including ticket collections) the Membership Support Team will be available from 12:30 pm until the first bounce.
VICTORY ROOM – LEVEL 1 BEHIND AISLE 15
Our Premium & Ultimate membership holders have access to the Victory Room and we encourage you to come along. You can purchase food and drinks, raffle tickets and see players post-game.
SAINTS CLUB – ACCESS VIA GATE 6, LEVEL D*
Ultimate Level 2 Members can access the exclusive Saints Club, purchase food and drinks, raffle tickets and are given free entry to the door prize. Players will make an appearance so this is the place to be for our Ultimate Level 2 members.
*Level D behind aisle 30. If accessing from Level 2, access points are at the end of each aisle between aisle 31 and 36.

Another home game, another chance to get your XBlades gear. We're pretty certain all of our Saints fans are close to being dressed in the best kits in town, but if you still haven't had a chance to get XBlades, come and see us at the below areas.
Can't make it to game day? Shop online today at shop.saints.com.au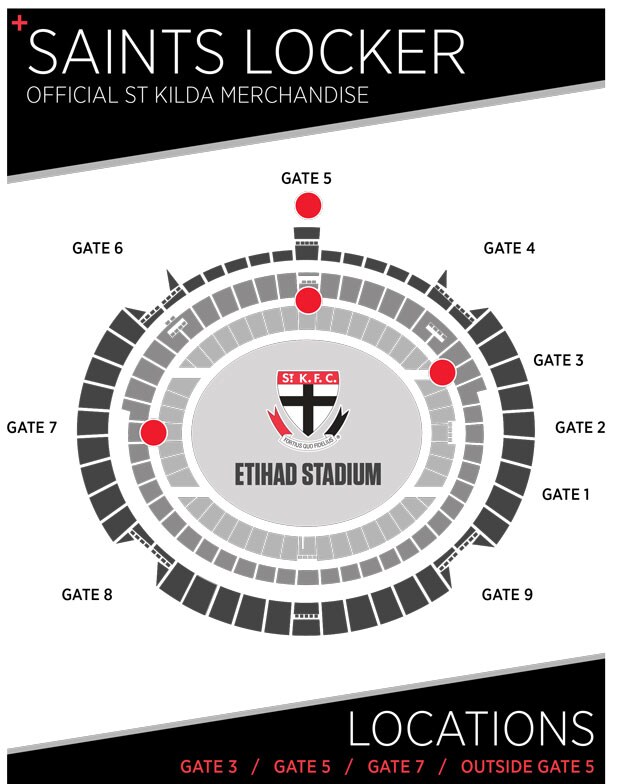 SAINTS ALLEY: GATE 4
One of our favourite things about a home game is Saints Alley! With activations commencing at 12:30 pm – we can't wait to see you there! Find us this Sunday outside Gate 4 to join in on the fun! Find drawing stations, nail and tattoo bars, pen it and post it, collectable Josh Bruce posters and much more at Saints Alley!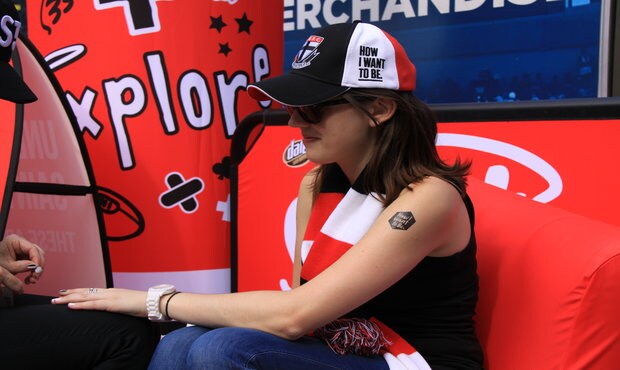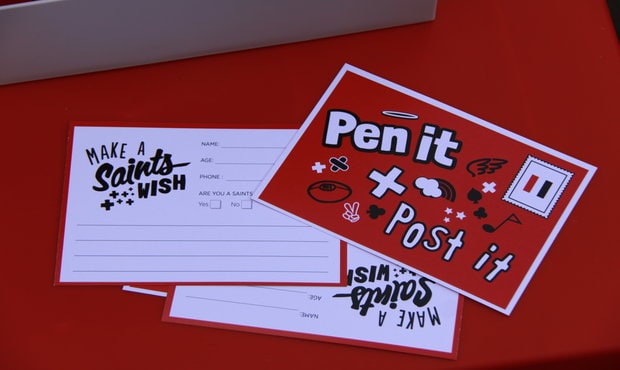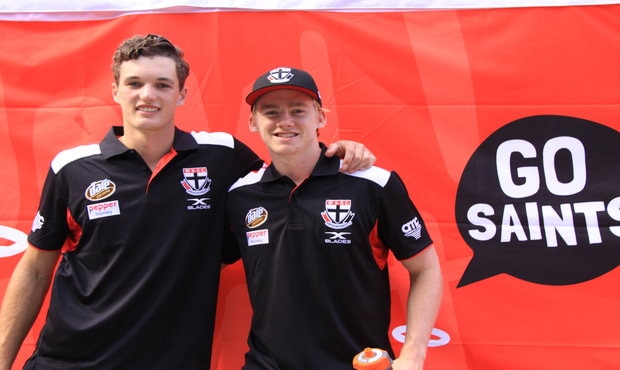 SAINTS DIGITAL
Keep snapping, Sainters! We are using the hashtag #AFLSaintsCats and #GoSainters for Round 5 and we would love you to use them. Thanks to Dare Iced Coffee, you could win!! Upload your picture and the hashtags #DareIcedCoffee and #GoSainters for your chance to win a player issue guernsey. Both hashtags must be used to be eligible.
PEPPER MONEY HOT SEATS
Pepper Money are continuing to roll out the red carpet at Etihad stadium with Pepper Money HOT SEATS! They are giving you and a friend the opportunity to win an upgrade to hot seats – throughout the entire 2017 AFL season! If you missed out on going into the draw for this week's game, click here to go in the draw for St Kilda v GWS in Rd 7.

Train
Southern Cross Station is located adjacent to Etihad Stadium. It is a short walk across the Bourke Street pedestrian footbridge.
For up to date public transport information in Victoria including timetables, service disruption information or ticketing visit ptv.vic.gov.au or download the PTV App.
Sandringham Line – Sunday timetable: Download Sunday's timetable for the Sandringham line.
Frankston Line – Sunday timetable: Download Sunday's timetable for the Frankston line.
When you're heading toward Etihad Stadium, make sure you turn right and head for Gate 4 so you can stop by Saints Alley
Car
Game day parking at the Etihad Stadium: undercover car parks are available for $30.00. The car park can be accessed via Bourke Street. Please note Etihad Stadium Carpark has a maximum clearance of 2.10 metres.