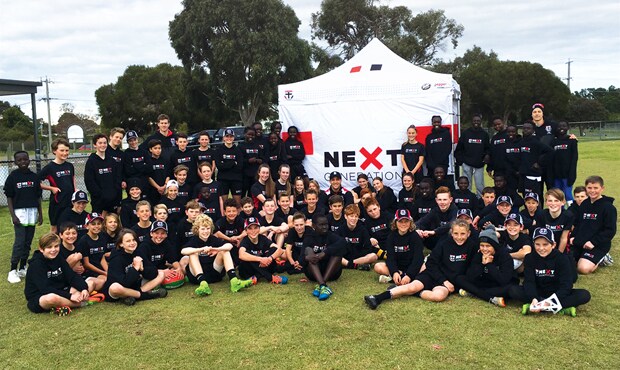 I think ultimately it's about leading a healthy lifestyle.
Nick Dal Santo
St Kilda hosted some budding footballers on Wednesday and part of the Saint's Next Generation Academy. The program is run during school holidays for youngsters aged 11-15.
Head of Community Football Gerard Jess spoke with saints.com.au about the program he is overseeing.
"The aim is to engage kids in an elite level program, while also attracting new people to the sport," explained Jess.
"The sessions involve on-field skill enhancement activities as well as off field life skills. There were lessons on leadership last school holidays, while these holidays we're focusing on things like wellbeing and social media."
Around 100 boys and girls attended the day, hosted by both current and former St Kilda players in Nick Dal Santo, Shane Savage and Tom Curran.
"I think ultimately it's about leading a healthy lifestyle," explained Dal Santo.
"Ideally, it's AFL football but if it's not, at least it's physical activity.
"The program is about educating them about exercise, diet, mental awareness, social awareness and basically being a healthy person."
The clinic involved both football activities and classroom lessons, but with the program being held over the school holidays, importance was also placed on fun.
"This is purely about being outside during their school holidays, being active and meeting new friends," Dal Santo said.
The clinic also featured some future young stars of the female game.
"The girls have been really impressive. There's talented kids everywhere you go, at this stage you don't want to put any pressure on them, but there are kids who stand out," Dal Santo said.
"We smash the boys anyway, let's be honest" remarked Olivia, one of the Academy participants.
The Saints ran a number of open days to pick participants for the program, before proactively engaging multicultural communities in the area.
"We worked with some local communities, for instance the Sudanese community in Frankston, to try help some connections with diverse cultural groups who otherwise might play basketball or soccer for instance. We really want to attract them to the game" enthused Jess.
"In Australia, about 30% of the population was either born overseas or has at least one parent who was born overseas. However only 3% of players on AFL lists fit those categories," Jess said.
"It's up to us to be representative of the diverse Bayside community, so it's great to get multicultural kids involved in the sport we love."