Things have come full circle for St Kilda full back Nathan Brown. He has rekindled a relationship with Alan Richardson and reignited his love of the game in his first season at Linen House Centre.
After a decade at Collingwood where he broke red, white and black hearts in 2010 to become a premiership star, the 28-year-old crossed to the Saints as an unrestricted free agent last October in a move that has helped the lockdown defender recapture some of his best form.
At the MCG this Sunday, in a game that has serious ramifications for St Kilda's season, Brown will reach the 150-game milestone, adding his 20th appearance for the Saints to the 130 he played in black and white after he was originally recruited with pick No. 10 in the 2006 National Draft.
"It's funny how footy works sometimes. When I first got drafted by Collingwood 'Richo' was the head of development at the Pies, so I had a lot to do with him early on," Brown told saints.com.au ahead of his 150th game on Sunday.
"It was good to get a first taste of AFL working with someone like him who is so strong on the development side of coaching.
"After nearly 10 years it was great to reconnect with 'Richo' when I arrived last year and throughout this season.
"Along with Rohan Welsh and 'Spud' Frawley, 'Richo' has helped me strip things back and simplify things. It's helped me rediscover my love of the game again and that's helped with my football.
"There's no secret if you get a really good pre-season under your belt, remain injury free and love your footy at the same time, you're going to translate that into consistent performance on the ground."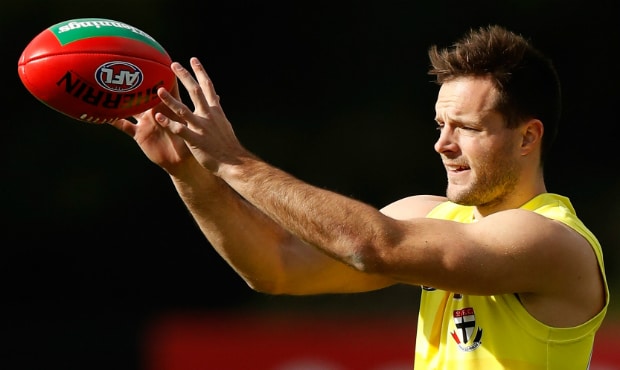 The game hasn't always been kind to the Ballarat product. Knee and shoulder reconstructions have been part of his journey, as has a split knee cap that sidelined him for an extended period. When he finally reached century in 2015, his former premiership captain Nick Maxwell worked out Brown had missed 66 games through injury to that point.
But while injuries have featured prominently in his journey so far, so have big finals. Much to the despair of St Kilda supporters, Brown's performances in both 2010 Grand Finals are etched into memory. He's also featured in two preliminary finals for a total of 10 finals. And hopefully, to the delight of St Kilda supporters, there is more to come.
"That Grand Final experience came relatively early for me," Brown said. "I was only 20 years of age and while you do realise at the time how lucky you are to not only play in a Grand Final but win one, it takes a bit more experience to really appreciate the significance of winning one.
"I look back on it now as such an amazing experience. I've been really fortunate to play in a lot of finals as well and a lot of big preliminary finals too. Hopefully there's more to come at St Kilda."