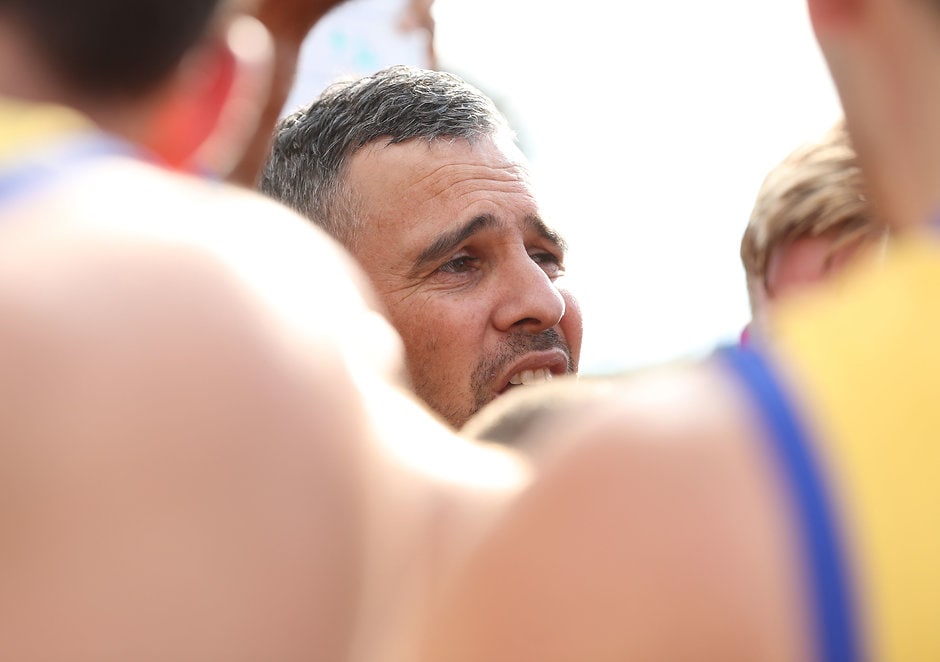 THE STORY
It proved to be an up and down season for Sandringham, with inconsistency the glaring issue in Lindsay Gilbee's first season at Trevor Barker Oval.
The Zebras finished 11th with eight wins, missing the finals for the first time in two years but it was always going to prove tough with a younger group than recent years.
Skipper Tom Curren didn't play a game in what was a big loss, but Gilbee would've been pleased with the development of players mostly in their first or second years of senior football, despite missing this year's finals series.
ROUND BY ROUND
Round 1 vs Essendon - WIN (7 points)
A season opener to remember for the right reasons as far as the Zebras were concerned, restricting Essendon to one goal in the first half before surviving a second half comeback at Beach Rd. With 17 Saints in Sandringham colours, there was plenty of quality on the park with Darren Minchington and Paddy McCartin combining for six goals.
Best players: Paddy McCartin, Darren Minchington, Nick O'Kearney.
Round 2 vs Richmond - LOSS (25 points)
The Zebras were out hunted and outplayed on their home deck by a Tigers outfit who kicked seven of the last ten goals to lead by 32-points halfway through the final term. A late rally from Sandringham wasn't enough with the Zebras losing their first game of the season.
Best players: Jack Sinclair, Shane Savage, Dan McKenzie.
Round 3 vs Collingwood - WIN (20 points)
In arguably the Zebras' best win of the season, Lindsay Gilbee's side was dominant with a 12-goal first half to open up a 40-point lead heading into three-quarter time thanks to Paddy McCartin's seven majors. Luke Dunstan was influential in the midfield, alongside the classy Jack Lonie.
Best players: Paddy McCartin, Luke Dunstan, Jack Lonie.
Round 4 vs North Ballarat - WIN (14 points)
Sandringham achieved consecutive wins for the first time of the season in Round 4 after they held off North Ballarat. The Roosters got within two kicks of the lead late in the final term but the Zebras' resilience is what pleased coach Gilbee in a game where injuries to Tom Hickey and Elliot Le Grice tested the side.
Best players: Rowan Marshall, Jack Lonie, Nathan Freeman.
Round 5 vs Coburg - WIN (11 points)
Another best afield performance from St Kilda forward Paddy McCartin got Sandringham their first away win of 2017, following four majors and 11 marks at Piranha Park. The Zebras put in a hard fought final term to run away winners from a tough Coburg side, with three goals apiece coming from Rowan Marshall and Ben Long.
Best players: Paddy McCartin, Rowan Marshall, Ben Long.
Round 6 vs Northern Blues - LOSS (38 points)
A tough afternoon for Sandringham after a promising start that saw the visitors pile on seven goals and take a 20-point quarter time lead. The Blues dominated proceedings for the final three quarters where the Zebras could only manage three majors after quarter time. Nick O'Kearney was the standout with 32 disposals in the loss at Preston.
Best players: Nick O'Kearney, Shane Savage, Bailey Rice.
STATE GAME WEEKEND vs Footscray - LOSS (98 points)
By far Sandringham's worst defeat of 2017, the Zebras couldn't get their hands on the ball in a game VFL coach Lindsay Gilbee described as "un-Sandringham like". The Zebras didn't kick their first major until the final term, coming from Jack Lonie, who was a shining light with 31 disposals.
Best players: Jack Lonie, Nick O'Kearney, Luke Dunstan.
Round 7 vs Collingwood - LOSS (14 points)
Sandringham couldn't tick off two wins against Collingwood, with the Magpies proving too strong in the second half, outscoring the Zebras by three goals. Josh Bruce pushed his name for an AFL recall with a four-goal haul, while Darren Minchington again showed his class.
Best players: Josh Bruce, Nathan Freeman, Darren Minchington.
Round 8 vs Williamstown - LOSS (24 points)
Sandringham weren't disgraced out at Point Gillibrand, but missed opportunities hurt with Williamstown capitalising when it mattered most. Jack Lonie's consistency at VFL level continued and Darren Minchington again put his hand up for another AFL recall.
Best players: Jack Lonie, Luke Dunstan, Darren Minchington.
Round 9 - BYE
Round 10 vs Coburg Lions - LOSS (25 points)
An inaccurate Sandringham had Coburg's measure for three quarters until the Lions kept the Zebras goalless in the final term for victory at Trevor Barker Oval. Jack Steele showed his class above in his first VFL appearance, while Nathan Freeman and Nick O'Kearney had 30 disposals each.
Best players: Jack Steele, Nathan Freeman, Nick O'Kearney.
Round 11 vs Werribee - WIN (6 points)
The Zebras burst out of the blocks with a scintillating nine-goal first quarter, only for the Tigers to kick themselves back in the contest that included a scoreless second term from Sandringham. Tom Hickey dominated in the ruck with 52 hit outs and seven marks.
Best players: Tom Hickey, Nathan Freeman, Shane Savage.
Round 12 vs Footscray - LOSS (49 points)
Another slow start and only able to kick more than two goals in a quarter come the second term proved Sandringham's downfall. Luke Dunstan was a shining light with 38 disposals, seven tackles and two goals as the only multiple goal kicker.
Best players: Luke Dunstan, Bailey Rice, Brandon White.
Round 13 vs Port Melbourne - WIN (8 points)
Sandringham coach Lindsay Gilbee described the win over Port Melbourne as the Zebras' most consistent performance of 2017 after his men led at every change. Luke Dunstan and a returning Blake Acres were instrumental in the win, while Rowan Marshall stood up with some telling marks when Port was pushing late.
Best players: Rowan Marshall, Luke Dunstan, Blake Acres.
Round 14 v Geelong - WIN (27 points)
The Zebras coughed a up a lead in the first quarter down at Simonds Stadium to rebound with a strong but inaccurate last three quarters to produce one of their strongest performances of 2017. Josh Battle kicked four majors in his best VFL outing and Tom Hickey again dominated with 35 hit outs and 28 disposals.
Best players: Josh Battle, Tom Hickey, Ray Connellan.
Round 15 v Box Hill Hawks - LOSS (47 points)
A tough afternoon at Beach Rd saw Sandringham only manage two goals in the first half but showed better fight in the last two quarters to outscore Box Hill by a goal. Nick O'Kearney and Nathan Wright picked up 35 and 30 disposals respectively.
Best players: Nick O'Kearney, Nathan Wright, Kade Answerth.
Round 16 v Casey Demons - LOSS (10 points)
It was a game of swinging momentum at Trevor Barker Oval but a four-goal final term got the Demons across the line late. Jack Lonie was superb with 37 disposals and 11 tackles and Tom Hickey had 55 hit outs.
Best players: Jack Lonie, Tom Hickey, Nick O'Kearney.
Round 17 - STATE GAME WEEKEND (27 May v Footscray)
Round 18 vs Richmond - LOSS (70 points)
Sandringham was no match for the finals bound Richmond at Punt Rd. Jack Lonie and Nick O'Kearney battled hard for their 30 and 31 disposals while Myke Cook led the way with eight tackles.
Best players: Jack Lonie, Nick O'Kearney, Myke Cook.
Round 19 vs North Ballarat - WIN (55 points)
Sandringham finished the season off with a win, despite a goalless second term after a six-goal first quarter. The Zebras put their foot down in the second half with Rowan Marshall starring in his return to Mars Stadium with four goals and seven marks.
Best players: Rowan Marshall, Ed Phillips, Nick O'Kearney.
LOOKING AHEAD
With the St Kilda-Sandringham alignment set to continue in 2018, expect the ongoing development of St Kilda and VFL talent to progress. Rowan Marshall was superb in his first season and earned an AFL debut in round 18 against the Sydney Swans, along with draftee Ben Long and Brandon White who were given opportunity in Alan Richardson's team after sustained form at VFL level.
Sandringham's developing talent also came to the fore with Corey Rich looking a likely type with ten goals in four games, while Josh Fox and Hamish Brayshaw showed plenty across the season with support from VFL leaders Myke Cook, Dylan Weickhardt and Elliot Le Grice.