St Kilda midfielder Luke Dunstan rode the rollercoaster in 2017. He took a little bit of time to get going, found himself out of the team on three occasions, before finishing the year as well as anyone to build some momentum into the pre-season.
With Jack Steele and Koby Stevens arriving at Linen House Centre, pressure for spots at the coal face was fierce this season.
But the competition drove Dunstan to a career best patch in the last six rounds, where after returning from the VFL, the South Australian averaged just under 28 disposals and just over six clearances a game.
St Kilda Senior Assistant Coach Adam Kingsley said the 22-year-old matured as a person through adversity in 2017 and finished the year in career-best form.
"I think you assess his year in two parts: I assess the first two-thirds of it and then the last two-thirds of it," Kingsley told saints.com.au.
"In the first two-thirds he was a little bit inconsistent. I think he really matured as a person across the year, with a little bit of adversity that he's never had to face before, strengthened his resolve and I think he learnt a lot around what's required.
"His last third of the season was as good as he's played at AFL level; he was hard and tough; he drove the midfield with his actions.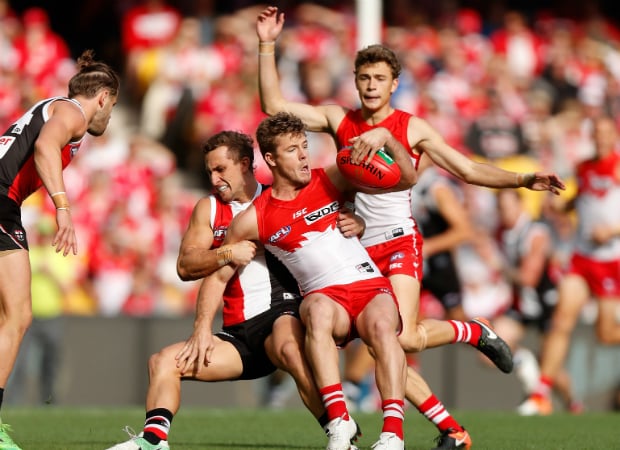 "He was really important for us in that latter part of the season in terms of the contest stuff and stoppage stuff and his spread has really improved, so he's reliable outside now. I think he's progressing really well."
After never being dropped from any team in his football journey, Dunstan entered foreign territory on a few occasions this season, in a difficult period that Kingsley believes could help him take the next step as a player.
"Initially it was really tough for him and initially it was really foreign for him. He wanted to be the player he wanted to be but he wasn't understanding why that wasn't the case, so he struggled with that," Kingsley said.
"But by simplifying his focuses, taking him back to what's important, training really hard on the training track and in the weights room and contributing strongly in the meetings that's where he got back to.
"It didn't turn around straight away, but with some consistency with that, it eventually turned around for him. They are the sort of lessons you hope players learn from and can apply them when they face adversity again."
2017 Statistics Snapshot
Games: 16
Disposals: 21.6
Contested possessions: 8.4
Tackles: 4.9
Clearances: 4.1
Inside 50s: 3.8