Persistence paid dividends for Jack Sinclair in 2017.
After spending the majority of 2016 in the VFL, he was forced to bide his time there again early this year.
But by Round 6, he was back in the team and into a new role on a wing. And from there, he never looked back.
Sinclair blossomed across the last 17 games, averaging 20.8 disposals, 12.6 uncontested possessions, 6.0 score involvements, 3.3 tackles and 2.6 inside 50s – all career-high numbers.
St Kilda Senior Assistant Coach Adam Kingsley, who manages the midfielders at Linen House Centre, said the man who inherited Robert Harvey's famous No. 35 grasped his opportunity this season and provided the Saints with damaging ball use on transition.
"We moved him to a wing because we just wanted his quality with the ball up the field a bit more," Kingsley told saints.com.au.
"We felt as a small forward he wasn't getting the ball enough and we felt like he could have a bigger impact on games by playing further up the field.
"Having that full-time role gave him ownership over the position to go 'hey this is mine I'm going to take it'.
"We're really pleased with his season in terms of adapting to a new role and then being able to become efficient.
"We're pretty comfortable with our inside mid combinations in there but we felt like Jack's running power, his understanding of the game and his intelligence, and then his use was well suited to a wing role, so we moved him there full time."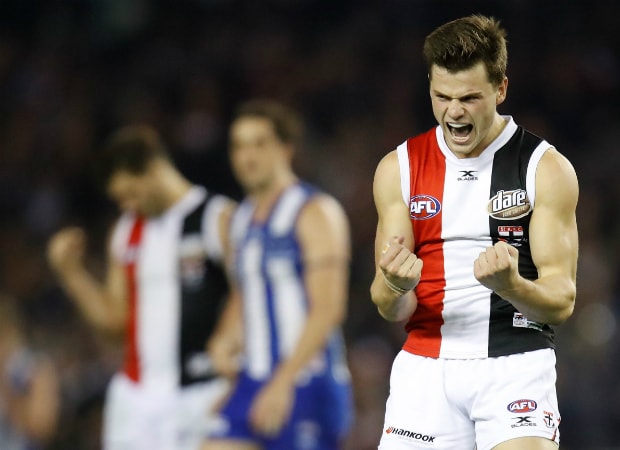 While Sinclair entrenched his spot in Alan Richardson's best 22 in the second half of the season, he had to fight his way into the team and then fight to stay there.
Kingsley praised Sinclair's determination and professionalism, in a year where the Scotch College product beat the door down for another chance and then never let anyone else in.
"He's another case where it hasn't come easy for him, he's had to work and find his way into the team and then that motivation to work and hang on to that position is high for him," Kingsley said.
"We've got a lot of guys who play are a similar role and are similar size and shape to him so it's very competitive to get a game with those guys, so they need to make sure that they are performing. He works hard during the week so by game day he's able to perform."
2017 Statistics Snapshot
Games: 17
Disposals: 20.8
Uncontested possessions: 12.6
Score involvements: 6.0
Tackles: 3.3
Inside 50s: 2.6