Seb Ross' rise from good to very good this season was on the back of his ability to keep working in games when others couldn't or wouldn't, says St Kilda Senior Coach Adam Kingsley.
After his numbers spiked significantly in a breakout season last year – leaping most notably from 18.2 disposals to 26.5 per game – Ross jumped into the next bracket in 2017, averaging 29.9 disposals (No. 9 in the AFL), 9.8 contested possessions and 5.1 clearances.
Kingsley, who oversees the engine room at Linen House Centre, lauded Ross' mental toughness in a year where the 24-year-old was named in the All-Australian squad for the first time and is one of the leading contenders in next month's Trevor Barker Award.
"Sebby played the same roles as last year, but what shifted was his work on the outside; his ability to defend; his ability to help others. He was also able to really outwork his opponents from the inside to out and find a lot of uncontested ball," Kingsley told saints.com.au.
"It seemed to me that he found a lot of ball because he's mentally tough and prepared to work when others fall off and when they want to rest he continues, which is a really strong aspect of his game.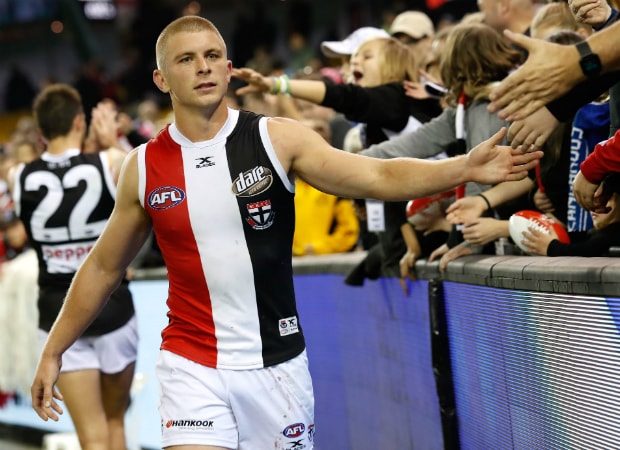 "We see that as his competitive advantage over a lot of midfielders he plays on – it's his ability to get the job done on the inside but then be able to work outside and find possession or defend and he works back to support our defence really well.
"It was just another season where he's feeling more comfortable at the level and when that happens with players they tend to improve quite quickly."
Along with recently re-signed defender Dylan Roberton and key forward Josh Bruce, Ross was included in a new-look leadership group this season, led by new captain Jarryn Geary.
Kingsley said the unassuming midfielder from Ballarat played a key role in driving standards at the club in his first year with an official leadership title.
"He had a lot of positive aspects to his leadership," Kingsley said. "He's prepared to communicate strongly and help others; he drives the group really well in meetings, on the training track or in games.
"He's still got some growth as a leader, but all in all, a pretty positive year for him."
2017 Statistics Snapshot
Games: 22
Disposals: 29.9
Contested possessions: 9.8
Clearances: 5.1
Tackles: 4.3
Inside 50s: 4.0