St Kilda ruckman Billy Longer was rewarded with his best season yet on the back of his best pre-season yet, says Saints Senior Assistant Coach Adam Kingsley.
After being dethroned by Tom Hickey last year, Longer didn't manage a single senior appearance, with the Saints opting for Lewis Pierce and Jason Holmes at different stages.
But after a big summer at Linen House Centre, Longer grasped the No. 1 ruck spot at the Saints in Round 5 and only missed one more game for the year.
The 2013 top 10 pick averaged the third most hitouts in the competition with 38.6 per game, to go with fourth best hitout win percentage at 54.2 per cent.
"That was definitely Billy's best season at AFL level. He was pretty good two years ago, but he was able to elevate his game to another level this year," Kingsley told saints.com.au.
"I think he ranked 3rd or 4th for percentage of hitout wins across the competition, so he's put himself in that sort of bracket there.
"He presented himself really strong at pre-season and had a strong pre-season and was able to carry that momentum into the season."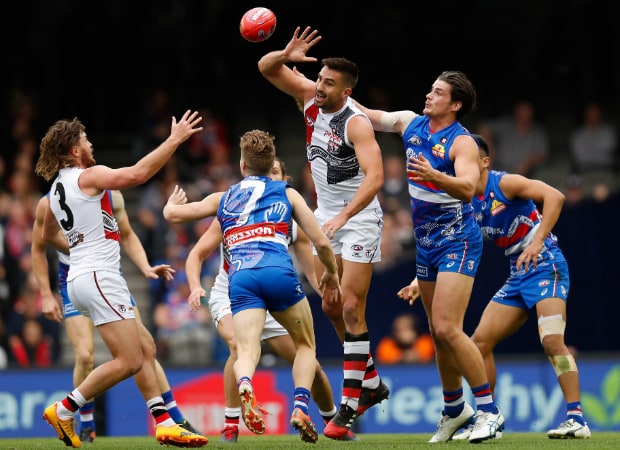 Kingsley said the next step for the former Brisbane Lion is to get his hands on the ball more around the ground.
"He's still got a lot of work to do around finding more possessions and being able to bring players into the game," Kingsley said.
"We saw glimpses of that later in the year where he could mark the ball, we saw him follow up really strongly and win possession.
"That's a continuing development area for him but we saw a significant improvement based on last year."
Kingsley said St Kilda ruck coach Adam Skrobalak had played a pivotal role in Longer's resurgence this season through technique adjustments and strategic moves in games.
"'Skrobber' has done a terrific job with all of them; the ability to coach them through technique; making subtle changes with what they're doing during games and during the week has been really important for Billy," he said.
2017 Statistics Snapshot
Games: 17
Hitouts: 38.6
Hitouts to advantage: 10.9
Disposals: 9.4
Clearances: 2.6