Emerging star Jack Billings produced the season the club was hoping for in 2017, establishing himself as one of the more damaging medium-sized forwards in the competition.
After being selected with the third pick in the 2013 National Draft, Billings has dealt with a couple of injury setbacks and gradually built form over his first three seasons, before exploding at times across this winter.
The 22-year-old got the ball rolling in Round 4 by collecting 28 touches against Collingwood and then inn his 50th game a few weeks later, Billings produced his best performance yet at the highest level, torching the Blues with a stunning five-goal, 30-disposal effort.
From there, the polished and poised left footer elevated his game to another level, amassing 25 or more disposals on eight occasions to earmark himself as one of the best in the caper in his role.
Had Billings capitalised on his opportunities in front of goal – he kicked 23.36 – he would have been firmly in All-Australian contention, with his goalkicking the only blemish in an otherwise exceptional season that should see him feature prominently on Trevor Barker Award night.
Performance of the year:
Round 8 v Carlton at Etihad Stadium: 30 disposals, 12 marks, 12 score involvements, 568 metres gained and five goals + 10 coaches votes.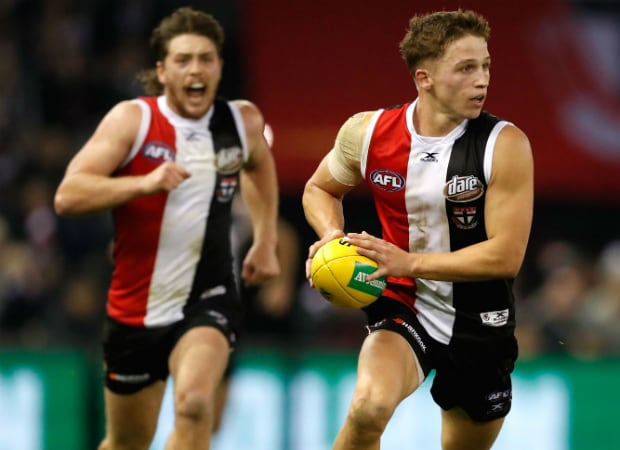 Alan Richardson's views:
"It was a really positive step forward for 'JB' this year and we think there's still lots of improvement ahead," Richardson said.
"He's an ambitious and driven young man who is determined to make the most of his career.
"While conversion let him down at times, a lot of the important numbers for his position were elite.
"His ability to accumulate the ball through his hard work and his ability to create scoring shots for his teammates was second to none in the competition. If Jack had of converted his opportunities in front of goal, I think he would have been in All-Australian contention.
"We know that Jack is a good kick, so through dedication to his craft, we are confident goal kicking will become a real strength of his game.
"We need Jack to continue to increase his time in the midfield to add polish to our onball group.
"But while there's a want to have him in the midfield, what he can do in front of the ball is quite unique, so we'll just have to wait and see what the future holds."
The numbers:
Games: 22
Goals: 23
Disposals: 23.1
Score involvements: 8.3
Inside 50s: 4.0
Marks: 5.5