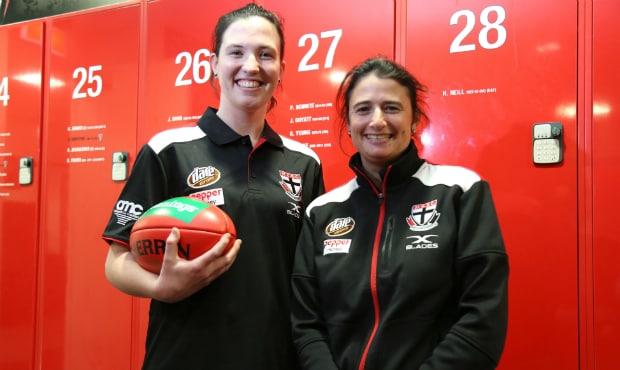 Today is an absolute dream come true. I was a little bit overwhelmed when I got the call from Pete [Searle].
Kate Macqueen
Kate Macqueen might have only just stepped foot in the club, but she has red, white and black blood running through her veins.
Her uncle, Jim Guyatt, played 113 games for St Kilda during the late 1950s and early 1960s before a career-ending knee injury cut him down in his prime at just 24, just like John Coleman.
Only days after former Dandenong Stingrays and Vic Country skipper Georgia Walker became the first player to commit to the Southern Saints, Macqueen is the second player to put pen to paper ahead of their debut season.
After displaying plenty of promise in her teens and early 20s, Macqueen spent a couple of years away from football before returning in the Victorian Amateur Football Association with Ormond last year.
Now, she is one step closer to her dream of playing at the highest level.
"Today is an absolute dream come true. I was a little bit overwhelmed when I got the call from Pete [Searle] last week," Macqueen told saints.com.au on Friday.
"It puts your goals into motion and puts you on the path to where you want to go.
"I've been in limbo a bit the last few months with not knowing how the VFL is going to run next year with all the different licenses and the old teams. So to get it done and to be here at this club with my family connection is so exciting. I can't wait to get started."
Southern Saints secure first signing
The ambitious key position prospect is determined to make every post a winner at the Southern Saints as she looks to make up for lost time and take the next step, which will be the biggest.
"Anything you do, you want to be the best at it, whether that's a new job or something like football which is such a high competitive sport – you just want to be the best player you can possibly be," Macqueen said.
"I really believe that at my best I'm capable of playing AFLW. I've got a long way to go, a lot of work to do to get there.
"I see myself as getting in on the ground level here, being a leader and showing my experience to help the younger players around here and helping build towards playing at the highest level."
To make the leap from VFLW to AFLW, Macqueen is determined to improve her professionalism, focusing on connecting all the dots that equate to the big picture.
"I'm certainly focusing on becoming a professional athlete. Being around those elite pathways in the path, they show you how to do it, but then you've got to go and do it," he said.
"At the master class earlier this year, it reminded me that at the next it's about doing everything to give yourself a little advantage because everyone else is doing those things as well."