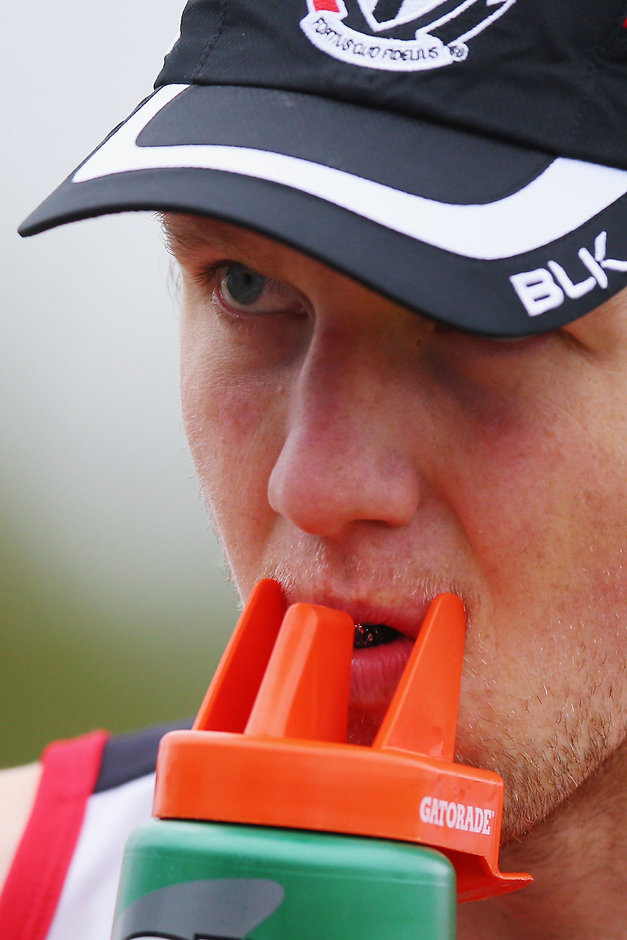 I think the injuries have made me stronger in terms of just that want to play AFL and that want to be out there with the group.
Hugh Goddard
Young St Kilda key defender Hugh Goddard has already faced his fair share of injury troubles, but he's out the other side and ready to attack the pre-season from the start.
After rupturing his Achilles tendon in his only senior appearance in 2016, the highly rated 21-year-old missed most of this season following surgery to repair torn ligaments in his foot.
Goddard, who has played nine games since being selected with pick No. 21 in the 2014 AFL Draft, said his time on the sidelines has enhanced his desire to not only return to the highest level, but to cement a spot in St Kilda's defence.
"I think it's one of those things, it's a bit of a cliché, but with sport there are lots of things that do get in the way, it's up and down, you've got to just take it in your stride," Goddard told saints.com.au at St Kilda's first to fourth-year camp.
"I think the injuries have made me stronger in terms of just that want to play AFL and that want to be out there with the group and the want to get out there and do the stuff that I love doing."
Having returned to full fitness by the start of September, the Geelong Falcons product was able to complete a full off-season program before starting the pre-season on Wednesday with the rest of the first to fourth-year players.
"It's been great to start fully fit on day one," Goddard said.
"I popped back into the club a week before we officially started last Wednesday just to tick everything off and to make sure I was in good nick and ready to go.
"It was all positive feedback from there so I've been able to do everything and I'm just loving being back and doing everything."
While he wasn't able to get on the park for most of 2017, Goddard was able to spend time working closely with fellow key defender Jake Carlisle and Assistant Coach Danny Frawley, trawling through game tapes to develop his game while he was out of the game.
"When I wasn't playing I went through vision with Jake; he's been great to sit down with and watch his vision and with Danny Frawley as well," he said.
"Jake's second half of the year was unbelievable, so I really want to be able to work with him and get on the park with him and be able to play with him.
"I think we can play a similar intercepting role and work together. I'm really looking forward to working with him and soaking up as much as I can."
As St Kilda pursues an elusive second premiership, a defensive spine comprising Carlisle and Goddard has quite a nice ring to it.