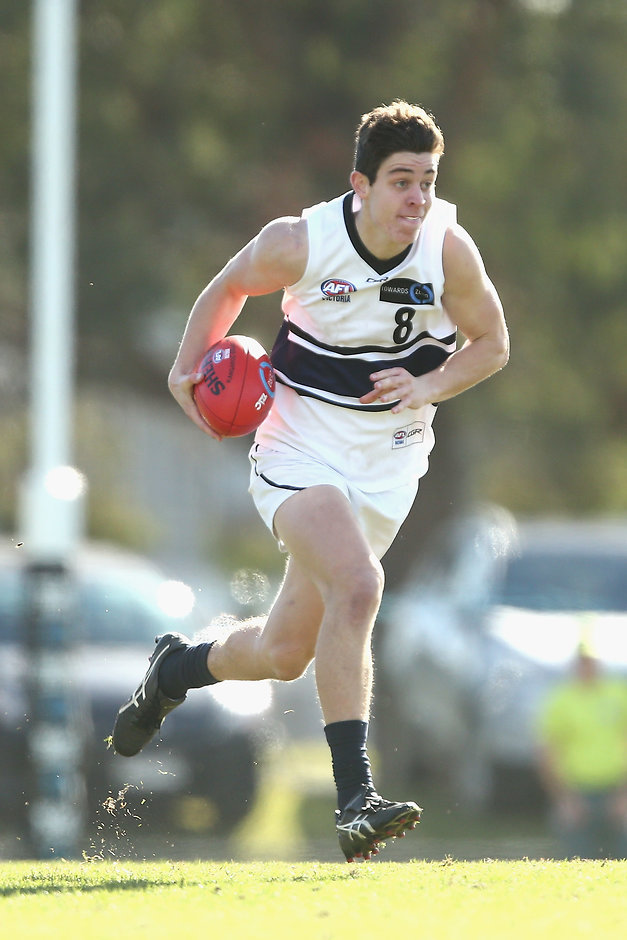 On my first day I did spew up because of the work.
Nick Coffield
Nick Coffield may be living his dream, but it now includes an alarm ringing at 5 am and the occasional spew at training.
Welcome to life in the AFL.
St Kilda selected the highly rated Northern Knights captain with pick No. 8 in last month's NAB AFL Draft, a spot after Dandenong Stingrays midfielder Hunter Clark.
A week into his new life at the Saints, the 18-year-old has had to adapt quickly to the early starts and the steep increase in training volume. But he wouldn't have it any other way.
"It's been pretty challenging. As first years we've been pretty light on for the work, but the conditioning is pretty hard," Coffield told saints.com.au after his first week at the club.
"I know on my first day I did spew up because of the work.
"Living out in Eltham it takes me about an hour to get out here so I'm getting up at about 5:15 so it's long days and I pretty much crash the second I get home, but I'm loving it.
"It was an awesome week and it flew past. A lot of the boys have said your first year will go pretty fast, so I'm just trying to take everything in and enjoy it."
Coffield, who was named at half-back in the under-18 All-Australian team this year following a standout carnival for Vic Metro, knows he must improve his aerobic capacity over the summer if he is going to play in the midfield early in his career and that's what he will focus on this pre-season.
"(My goal over the pre-season is) to improve my fitness," Coffield said.
"If I want to play in the midfield that's got to improve a fair bit, but I'm probably in the best shape I've been in my life so that's a positive.
"And then just to play, I want to get straight into next year, so hopefully I can crack the firsts."
Now safely inside Linen House Centre, Coffield recalls St Kilda List and Recruiting Manager Tony Elshaug challenging him during a home visit earlier this year, in a moment he now realises showed the Saints' genuine interest in him.
"When they came over they challenged me a fair bit – 'Trout' was pretty intense with his approach to it but every club has their approach to it," he said.
"I think that was a bit of a sign that St Kilda might be interested and I spoke to them five times."