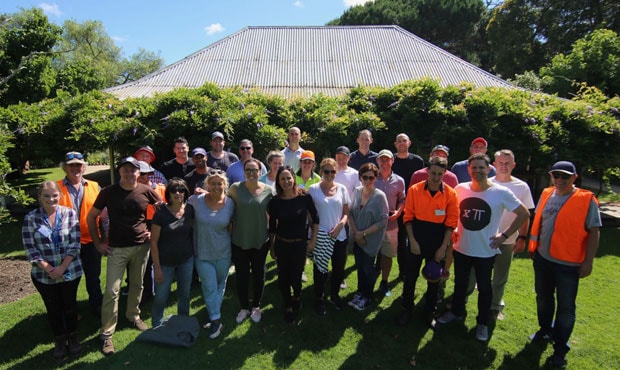 It was a change of pace for St Kilda's executive team last week, a visit to Sages Cottage Farm providing an opportunity to embrace, connect with and give back to the local community.

Wallara Australia, the organisation behind Sages Cottage Farm, are an organisation dedicated to providing services, accommodation, training and work experience to those within the community living with a disability.

With 30 sites across Melbourne's south east, Wallara Australia provide personalised support to over 400 adults with differing abilities. Their mission is "to empower the people we support to live the life they choose."

St Kilda Football Club GM of Community Lisa Laing believes there is opportunity for a community partnership with both organisations having shared ideas and values.

"Wallara are looking for deep connections with their partners, and we feel there is good alignment between our brands," said Laing.

"We have a shared focus on values based around connection, belonging and building thriving communities."

The two-day leadership session included a volunteering aspect, with the Saints' executives working alongside a team of Wallara Australia clients and staff to create a garden for the on-site clubhouse.

"The farm in Baxter allowed us to do a volunteering element, so we decided we wanted to do something (create a garden) that would give back to the clients of Wallara at Sages Cottage Farm," Laing said.

St Kilda coach Alan Richardson donned the gloves to help build a new community garden.


A new garden was a fitting start, with a partnership set to grow and benefit both organisations over the next 12 months.

A potential partnership could see an array of programs and opportunities made available through the club, while St Kilda will be able to further its community involvement – broadening its stance as an inclusive club for all, while continuing to emphasise a focus on people, belonging and human potential.

"We understand that sport is an important part of the lives of people living with a disability and feel that there is a lot of opportunity to build a deeper connection with Wallara and the services they offer," said Laing.
We look forward to sharing more of the Saints and Wallara partnership in 2018.