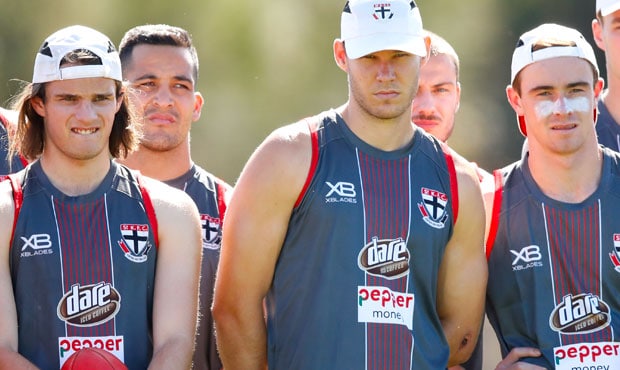 A new year means new numbers, with six Saints recruits finding out late last week which number they are set to wear from next year onwards.
While Leigh Montagna passed his No. 11 to Hunter Clark – the first time the number has changed hands in 13 years - the No. 24, No. 33, No. 45 and No. 46 will all be worn by new faces in 2018.

We looked at the stats behind each number so that you don't have to.
No. 11
24 players have worn No. 11, with Hunter Clark set to become the 25th.

Every player to wear the No. 11 has played at least one game in the red, white and black.
Just two players have played just one game in the No. 11 –Joe Ashdown and Chester Read in 1946 and 1953 respectively.
Five players have played 100+ games in No. 11, most notably the recently retired Leigh Montagna – who played a number-high 287 games.
A combined 804 goals have been kicked by those wearing No. 11 – again, a man nicknamed Joey leading the charge with 155 of his own.
Second on that list is Bill Stephenson, who kicked 139 goals in 88 games between 1957 and 1963.
No. 12
The last time the No. 12 was not worn in a St Kilda match was 1990.

Last week it was announced that retired great Nick Riewoldt's No. 12 will be temporarily retired for at least 2018.
No. 24
33 players have worn the No. 24, with young defender Logan Austin set to become the 34th.

The number will stay in the family, the ex-Power defender is the cousin of recently retired Saint Sean Dempster.
Dempster played 168 games in the No. 24 after crossing over from Sydney in the 2007 trade period.

Jason Heatley, arguably one of St Kilda's most memorable forwards, kicked 163 goals in just 60 games while wearing the No. 24 – five of those in his Saints' debut against Collingwood in 1997.
No. 33
Emerging defender Hugh Goddard wore the No. 33 for two seasons before switching to No. 23, while the number was most recently occupied by Nick O'Kearney in 2017.
Robert Elphinstone holds the record for games played wearing No. 33. The defender played 157 games between 1980 and 1989 for the club.
No. 38
Twelve players have worn the No. 38, with Albury product Nick Coughlan the most recent to occupy the locker.
Doug Booth played a number-high 24 games in No. 38, while midfielder Greg Packham kicked 31 goals in 17 games in a two-year stint with the Saints back in '82-83.
No. 45 and No. 46
Ben Paton will become the ninth player to wear No. 45, while Doulton Langlands will be the seventh player to don the No. 46.

The two numbers were previously worn by a pair of international imports at the Saints.

The No. 45 was previously occupied by American ruckman Jason Holmes, while the No. 46 was last seen on New Zealand native Joe Baker-Thomas.