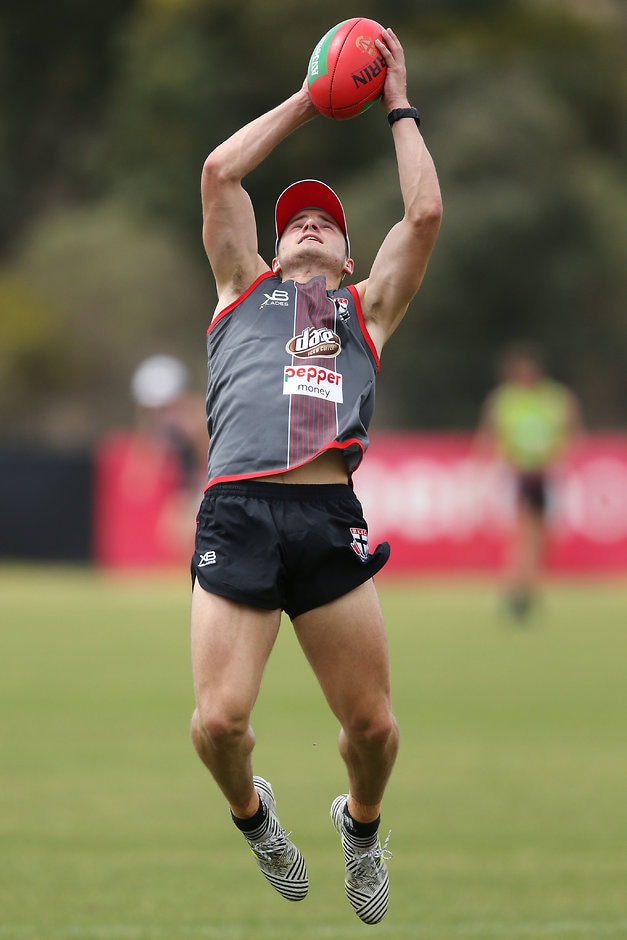 I think for us, our biggest area for growth is our consistency.
Jack Sinclair
Much like his team, St Kilda wingman Jack Sinclair is determined to improve his consistency and his ability to defend this pre-season.
Sinclair, 22, was one of the most improved players at Linen House Centre in 2017, cementing a spot in Alan Richardson's team in the final three-quarters of the year, where he averaged career-high numbers across the board.
Nearly halfway through his fourth summer in Seaford, Sinclair believes the Saints can become a better team in 2018 if they can narrow the gap between their best and worst.
"I think for us, our biggest area for growth is our consistency," Sinclair told Melbourne radio station RSN 927 on Wednesday morning.
"I think we've shown how good our best footy is against Richmond (Round 16), but then the next week against Essendon (Round 17) we were on the other end of it.
"There are certainly areas in our game that we need improve like our defence; we're getting too many goals kicked against us."
After adding 17 games to the 27 he played across his first two years, Sinclair has his eyes set on improving his own consistency, as well as the defensive side of his game.
"A bit like the team, consistency is a goal of mine," Sinclair said.
"I had a few weeks in a row last season where I had some down games, so I think if my performances are more consistent then the team will be more consistent too. So that's one of my biggest focuses.
"I'd like to improve the defensive side of my game. I'm pretty comfortable when I've got the ball in my hands and on offence, so I'd like to improve my defence."
While some things don't change about pre-season, some things are different this time around.
St Kilda champions Nick Riewoldt and Leigh Montagna are no longer around to drive the group or set the tone. Although, Sinclair thinks it has provided others with a chance to take ownership of the group.
"It is quite different not having Nick and Joey around; it's very different to what I've known in my three years at the club," he said.
"At the same time, it's pretty exciting and it means younger guys can step up."