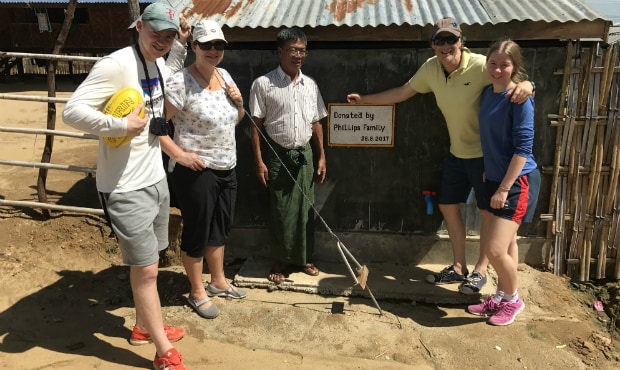 I quite like going to places where sometimes you might feel a little uncomfortable or unsure.
Ed Phillips
While most footballers spend their off-seasons catching the last rays of the European summer or gallivanting around America, young Saint Ed Phillips experienced something off the beaten track.
Along with his older brother Tom, who produced a breakout season for Collingwood in 2017, younger sister Lucy and parents, Anthony and Liz, Phillips travelled through south-east Asia last September and October.
The Phillips' spent time in Myanmar, Cambodia, India and Nepal, where through the family's charity, The Phillips Foundation, they provided disadvantaged people with educational and learning support to help them lead better lives.
Phillips, who played 13 VFL games in his first year after being drafted with pick No. 56 in the 2016 NAB AFL Draft, said his family had led a privileged life and wanted to help those less fortunate than themselves.
"My brother, my sister and I have all developed a want to help out and give back to the community because we've been so fortunate ourselves," Phillips told afl.com.au.
"I quite like going to places where sometimes you might feel a little uncomfortable or unsure, but that just makes for great stories, and memories when you come back into this very comfortable life we've got."
After a long winter spent fighting for a spot inside St Kilda's engine room, the opportunity to travel to different corners of the globe is something Phillips relished, on a trip that also allowed him to recharge ahead of his second pre-season.
"It's more of an adventure and you learn so much, I found, from going to different parts of the world and experiencing different cultures," he said.
When Phillips and his brother trained during their time abroad, the pair received some puzzled looks from locals whenever they pulled a Sherrin out.
"We took a couple of footy's over and got a fair few strange looks from people over there, asking 'Is that rugby?' or 'Is that basketball?'," he said.
"We just went 'No, it's hard to explain, we'll show you'.
"We'd kick it around and their eyes would light up."