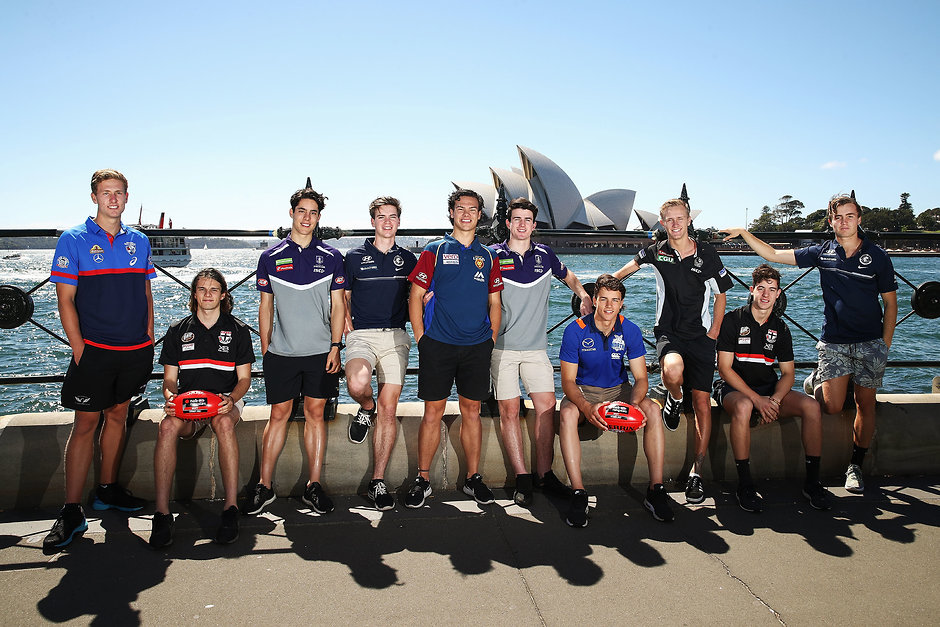 For him to be one of the better players on the ground in his first game at that level was very impressive.
Chris Liberatore
Before St Kilda used pick No. 7 and No. 8 on Hunter Clark and Nick Coffield, the pair produced a couple of performances that sealed the deal for the Saints' recruiters.
Nick Coffield's opening game in last year's national championships got the ball rolling.
The Northern Knights skipper was a highly rated prospect, but where he sat in the draft pool was unclear.
Unlike most of the best players in the pool, he'd didn't play as a bottom-ager and he didn't play in the under-16 carnival a year earlier, like almost all the best players.
But by the end of his first game for Vic Metro, he was well and truly in St Kilda's sights.
"Nick really impressed us straight up in the national carnival. For him to be one of the better players on the ground in his first game at that level was very impressive," St Kilda State Recruiting Manager Chris Liberatore told saints.com.au.
"He didn't play in the under-16 championships; he didn't play as a bottom-ager; he stepped straight into the under-18 championships, which is the highest level these kids can play, and he was one of the best players on the ground, which is not easy to do and is not common."
While it took some time for Coffield to confirm his status as a first-round pick, Hunter Clark entered his final year of underage football as one of the best prospects in the draft.
The Dandenong Stingrays product dominated across half-back in the TAC Cup in 2016, using his precise foot skills and calculated decision-making to cut games apart.
In 2017, Clark shifted from defence to a permanent spot in the midfield where he demonstrated how damaging he can be around the ball, strengthening his draft status in the process.
In a game at Trevor Barker Oval late in the season, against a Sandringham outfit stacked with class, Clark grabbed the game by the scruff of the neck, convincing St Kilda recruiters he was the man they wanted.
"Dandenong had Luke Davies-Uniacke and Hunter in the midfield and Sandringham had [Andrew] Brayshaw and [Charlie] Constable in the midfield as well, so it was a really good challenge," Saints State Recruiting Manager Chris Toce said.
"Hunter had been playing well in the midfield, but probably against lesser opposition. So it was a good chance to measure him up against two of the better inside mids in the draft.
"On the day I thought he was clearly the best player on the ground. He played four quarters; his attack on the ball was really strong; in really tough, typically windy conditions at Trevor Barker, his kicking was excellent on both sides of the body.
"What really, really stood out on the day was his last quarter. Dandenong was behind and had surrendered a really good lead and Hunter just took over in the last quarter and basically lifted them over the line."
"There was an incident right in front of us at half forward where he gave three efforts defensively in a really short space of time that just highlighted his competitiveness and work ethic – he was pretty cooked at that point of the game but his effort was overwhelming," St Kilda's other State Recruiting Manager Mark Smart recalled.
After following up his impressive start to the national championships with another eye-catching effort against Vic Country at Punt Road Oval, Coffield was handed the massive task of taming South Australian power forward Darcy Fogarty.
Not only did he blanket Fogarty, who would eventually be picked by Adelaide four spots after Coffield at No. 12, to just four touches, he collected 19 of his own to complement his shutdown role with some drive out of defence.
"Nick spent 80 per cent of the game on Darcy Fogarty, who at that point was rated as a top-10 player and ended up going at No. 12," Liberatore said.
"He showed us that day that he is capable of changing his mindset when he is handed a role and he showed that he can defend really well one-on-one and sacrifice his role for the team.
"He also had 19 disposals and provided plenty of drive out of defence, which he is renowned for."
When Clark arrived in Sandringham on the final Saturday in August, he was one of a handful of players St Kilda was considering with their two top-10 picks.
When he departed Sandringham later that day, the Saints had found their man.
"We went into that day knowing that Hunter was a player of interest along with a number of players in that game," Toce said.
"When you can actually measure a player up against another really strong team and really strong players you get a lot out of it; you see how they go about it and who has a bigger influence on the day. And on that day, I thought Hunter was the best player on the ground."
Months later, St Kilda used their strongest draft position since 2001 on two Victorian's, tying a bow around another recruiting cycle and, perhaps, one of the most important in the clubs pursuit of premiership success.