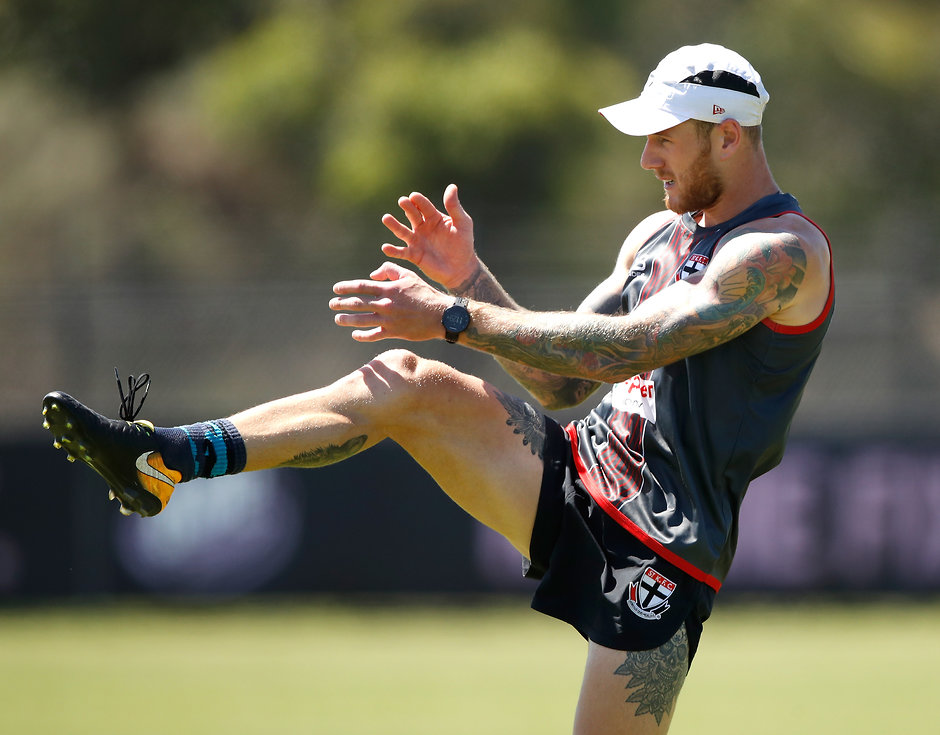 A big factor is taking shots under fatigue.
Tim Membrey
He might have only been at the club for a handful of sessions, but St Kilda's new goal kicking coach Ben Dixon is already having an impact, according to forward Tim Membrey.
While Membrey has had little trouble with his conversion over the past couple of seasons – he has kicked 82.32 in the last 24 months – the Saints were ranked last for conversion in 2017 and made to pay for their inaccuracy on several occasions.
Membrey revealed Dixon's program focuses on a combination of technique, repetition and mental aptitude that has been implemented into training during the pre-season.
"Ben came in and presented to the group before Christmas. There's a bit of technical, a bit of mental, but really it's just about putting the work in," Membrey told saints.com.au on Wednesday.
"If you're really serious about it, then you're not just going out there and blazing away, you're getting yourself into the routine, focusing on what works for you.
"A big factor is taking shots under fatigue. Now in training, when a drill finishes we stride over and take shots while we are fatigued, which focuses on getting your body used to calming yourself down and executing."
Renowned for his pristine accuracy during his 203-game career at Hawthorn, Dixon spent three years working part-time at Collingwood, alongside his media commitments with Fox Footy and Crownbet.
Despite being the most reliable set shot at Linen House Centre, Membrey is still determined to make the most of his chances in front of goal.
"I guess for me, it's more about (working on) the mental side of things," he said.
"I know my routine is structurally pretty sound, it's just about when I am kicking for goal I'm fresh in the mind and having that dominant thought that I can execute."