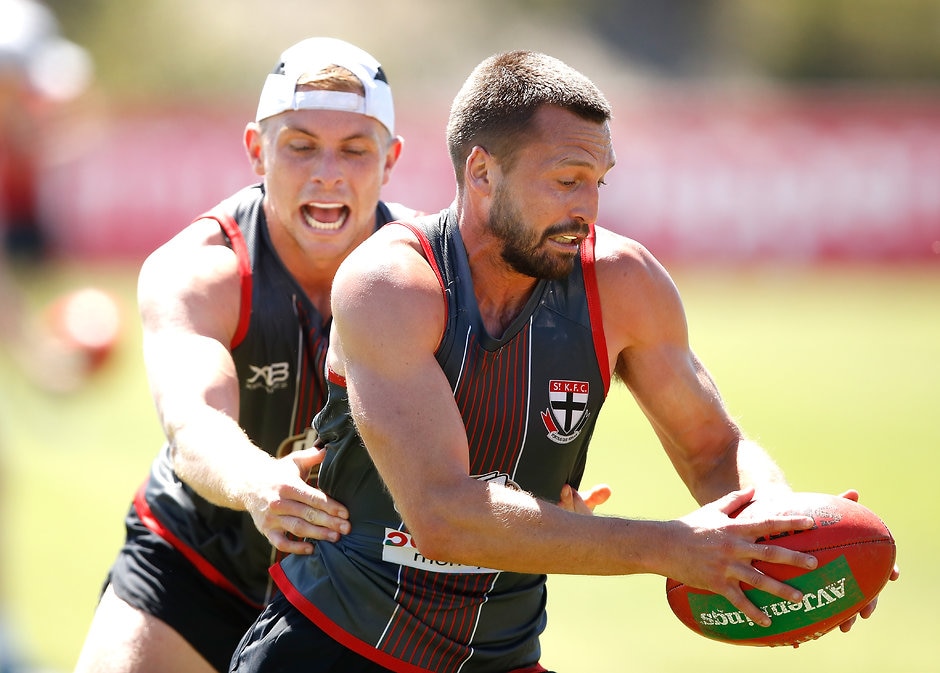 We've come to expect that from Gears; he hasn't lost a time-trial since I've been here.
Seb Ross
St Kilda started 2018 with a traditional 3km time-trial on Saturday, although there was a twist.
Unlike the normal format where everyone starts at the same time, the high performance department at Linen House Centre opted for a handicap start.
Endurance king Jarryn Geary started at the tail end of the field, with a reverse order weaving its way from top to bottom.
The St Kilda skipper didn't have too much trouble working his way from scratch.
Reigning Trevor Barker Award winner Seb Ross said the aerobic animal made up a ten-second deficit on him by the midway point, before stopping the clock quickest.
Young midfield duo, Ed Phillips and Jack Sinclair, finished further back on the same time, just ahead of Ross and Blake Acres.
Mobile forward Josh Battle was next across the line in an impressive run, while pocket rocket Jack Lonie also returned with a personal best time.
"Gears started 10 seconds behind me and I reckon by the one and a half km mark he flew past me," Ross told Inside St Kilda this week.
"I'm not sure what his second km was but it definitely would have been his quickest km.
"We've come to expect that from Gears; he hasn't lost a time-trial since I've been here."
While the handicap approach didn't favour Ross' style, the star midfielder said change is welcome during a pre-season program that can become monotonous.
"It was a different approach, just to mix it up a bit because the old 3ker can be a bit mundane," Ross said.
"We did one when we first came back, so the order was based off the times the guys got. So the guy that came through last in the first one, he started first and everyone's times were based off the difference.
"It made it quite different, especially for someone like me who gets into a bit of a rhythm, so I don't think it suited me too much having to overtake guys."