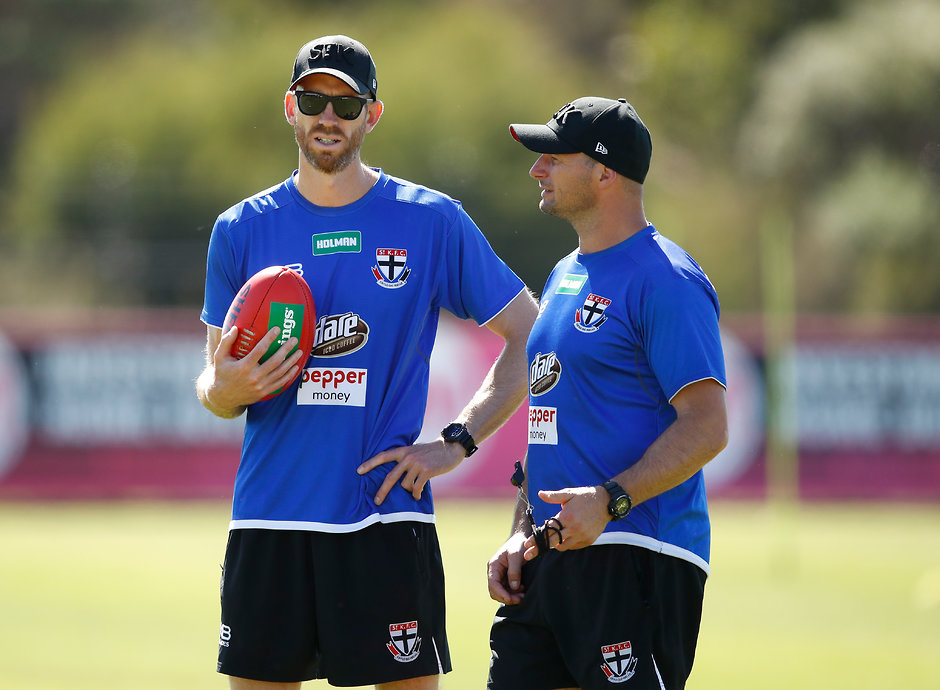 I wasn't busting to be a coach when I finished playing, I was a little bit disenchanted with the game.
Henry Playfair
When Henry Playfair's playing career finished at the end of 2010, he was ready to leave the game and try his hand at something new.
After a career marred by injury, a then 27-year-old Playfair was in the process of transitioning into life after football, taking the first steps into the finance world at Citibank.
A career in coaching didn't cross his mind until Sydney coach John Longmire picked up the phone and asked him to coach the Swans' reserves team.
That call put into motion a series of events that led Playfair to Linen House Centre last November.
"I wasn't busting to be a coach when I finished playing, I was a little bit disenchanted with the game through injury and I never fully established myself as a regular senior player for a long period of time where I felt really comfortable playing," Playfair told saints.com.au.
"I guess I was a little bit scarred by playing and thought I'd go do something different outside the game.
"John Longmire rang not long after I finished playing and asked if I wanted to coach the reserves. He said, 'I don't want to put pressure on you, but can you get back to me in the next 24 hours?'.
"I'd just been offered an internship at Citibank, but I thought if you step out of coaching, it's going to be harder to get back in; that was my logic.
"I thought if I went down coaching and it doesn't work, finance will always be there. So I rang him back the next day and said 'I'll jump in'.
"Over the years my love for it has deepened; almost every year I've become more entrenched in it. When I started I was still thinking 'what does finance look like?' and 'what does life outside AFL look like?' But I just love it so I'll stick with it and keep pushing it."
Playfair began coaching former teammates and people older than him in the NEAFL, before Longmire moved him into the senior setup at the Swans after just 12 months.
He coached the forwards for four years, starting in Sydney's premiership winning season in 2012, before spending his final two years in the harbour city overseeing the defence, in a role he will perform at St Kilda.
While everyone dreams of compiling a career like Nick Riewoldt, the reality is not many get close to that level of greatness. Playfair has ridden the ups and downs of the game at the top level and it's that experience that has helped him connect with a wide range of players as a coach.
"I think my playing experience allows me to empathise with their situation and the difficulties of playing; it's not all that you'd imagine from the outside that it's every kid's dream to play AFL, and what a fantastic ride it is," he said.
"Like anything it comes with a lot of challenges. I think my experience helps identify with that.
"I wrestled with not loving playing and how you can coach people if you didn't necessarily love the game. I've worked my way through that in the last few years.
"I love coaching and if guys love playing, that's great because I can do what I love, which is help them become the best they can."
Given Playfair has established himself as a highly regarded assistant coach in recent years, it would seem that he won't be requiring a calculator anytime soon.