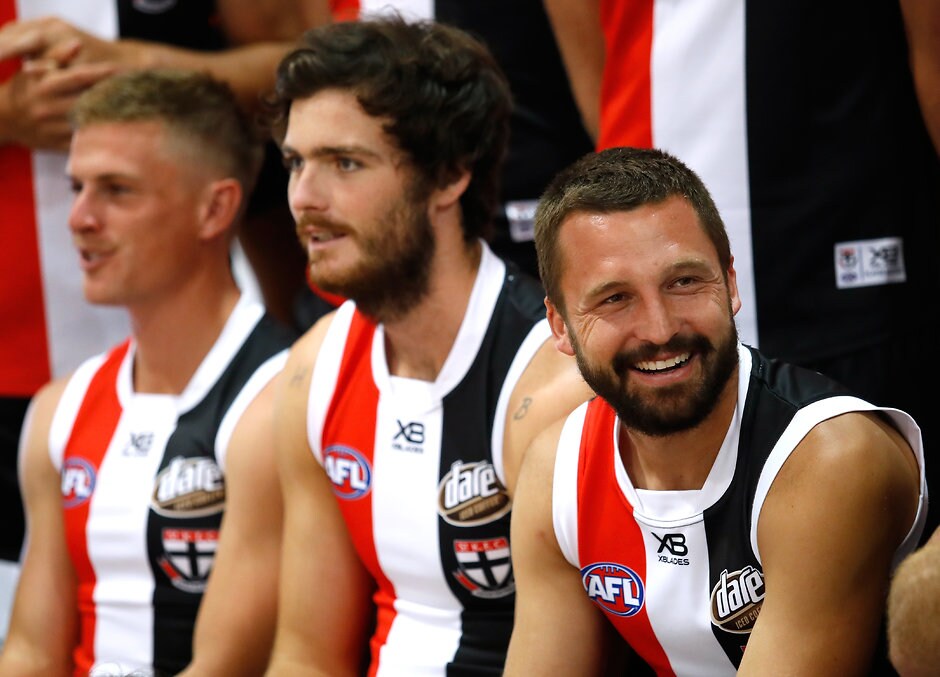 With the leadership group announced for 2018, Jarryn Geary has retained the captaincy and will lead the club for the second year in a row.
To mark the occasion, here are six times Gears has led from the front.

1. When he laid that tackle

Etihad Stadium. Round Seven. St Kilda vs Greater Western Sydney.

It's the second quarter, the game is in the balance and the Saints lead the Giants by a single point. The Giants send the ball forward to Jonathon Patton and look to enter their forward 50.

Enter Jarryn Geary.

Jarryn Geary brings Giants forward Jonathon Patton to the ground in a halting tackle.

In trademark Geary style, once he had his arms around the GWS spearhead, he wasn't letting go.

2. Traffic hero

In August last year, a young boy named Hugo attempted to cross a busy road on his bike, by himself and without permission.

Geary, who happened to be at the lights, jumped out of his car and stopped him from going any further.

A quick caution and a happy snap later, it's further proof that you don't have to be on the field to be a leader.



Jarryn Geary with Hugo.

3. He's an endurance king

The skipper has impressed many with his aerobic capacity throughout his time at the Saints, and this pre-season has been no exception.

After enduring torrential rain to claim December's time-trial, not even a handicapped start could keep him from claiming his second title for the summer in January.

Talk about leading from the front.


He weathered a storm to take out December's time trial, one of many wins while wearing the red, white and black.

4. He proposed

As the Captain, he's not afraid to ask the hard questions and they don't come any bigger than popping the big one.

After proposing to his partner and now fiancee Emma last year, the two are set to tie the knot in 2018.

The pair also welcomed the safe arrival of daughter Harriet Florence Geary in January.
5. From Rookie to Captain

After being overlooked in the National Draft, Geary was taken by the Saints as a rookie selection in 2006.

163 games and the captaincy later, he's proof that with grit, hard work and determination, anything is possible.


An eager-eyed Jarryn Geary in 2006.
6. Music taste

When the playing group selected their top three songs for the 2017 Saints' Hottest 100, one man's selections stood out.

While the majority of the list voted for the likes of Post Malone and Kendrick Lamar, all Jarryn Geary had on his mind was a Fast Car, Fuel and a man named Mr Jones.

His top three selections:

1. Tracy Chapman - Fast Car
2. Fuel - Shimmer
3. Counting Crows - Mr Jones

Never mind that none of these songs were released in 2017, let alone the 2000s, it's just another example of a leader who's unafraid to lead by example while staying true to who he is.