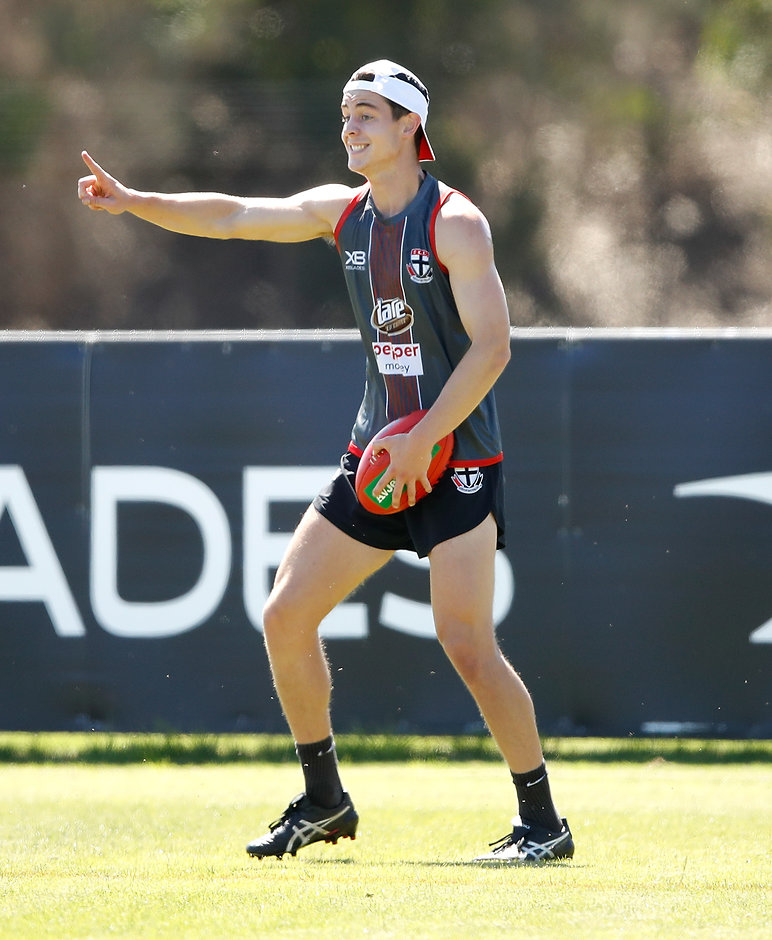 It would be a massive honour to don the Saints jumper for the first time.
Nick Coffield
St Kilda draftee Nick Coffield says it will be a 'massive honour' to wear the red, white and black for the first time if he is picked in this Friday night's AFLX tournament.
The highly-rated 18-year-old was selected at pick No. 8 in last November's NAB AFL Draft, the spot after St Kilda snared another young gun in Hunter Clark.
After standing out in last Friday's match simulation session, following an impressive maiden summer on the track, Coffield is likely to run out on Etihad Stadium this weekend.
"It would be a massive honour to don the Saints jumper for the first time," Coffield told saints.com.au at Peninsula Grammar on Monday afternoon.
"Hopefully I can get picked and have a bit of fun with the boys in the first AFLX matches.
"AFLX is very quick. The ball zings up and back at a frenetic pace, so you're knackered pretty quickly but you've just got to adapt to it pretty quick."
Coffield, who captained the Northern Knights in the TAC Cup and earned All-Australian selection last year, admits stepping out of school and into an elite environment for the first time has been challenging, but enjoyable at the same time.
"It's been tough and it's been long, except we've got a pretty good support network with all the coaches and the players are helping us out," he said.
"It's obviously pretty different coming from school and then playing footy full time. It takes a bit of time to get used to, but I'm really enjoying it."
While versatile midfielder Blake Acres has taken him under his wing since he arrived in late November, Assistant Coach Aaron Hamill has played a pivotal role in Coffield's development to date.
"Sammy Hamill is the main one for me. He's my duty of care coach so we watch a lot of vision and do a lot of extra touch sessions like that during the week, so he's been massive for my development," he said.
St Kilda will face Essendon and Hawthorn in its first taste of AFLX on Friday night, with the potential to face another opponent if they reach the Grand Final.