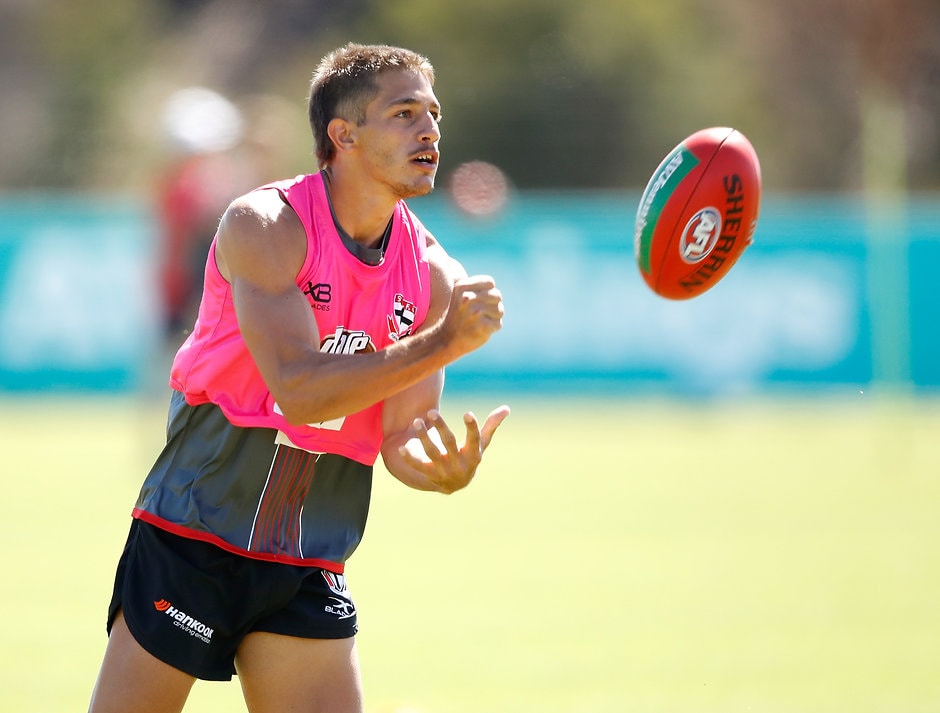 A host of Saints pressed their case for a Round 1 berth in Saturday's VFL practice match.
A total of 17 St Kilda-listed players enjoyed a hit-out in a Zebras v Saints intra-club, surviving the sweltering conditions at Trevor Barker Beach Oval.
With temperatures soaring above 30 degrees, Ben Long, Mav Weller, Sam Gilbert, Jack Lonie and several others went to work, building match fitness and sending Alan Richardson and his coaching team a reminder of their Round 1 credentials.
With St Kilda players split evenly between the two sides in the first half before forming one team in the second, Sandringham coach and St Kilda assistant Aaron Hamill was reluctant to highlight individual efforts.
"Saturday was more than anything about getting some match-fitness into the guys and making sure they are right to go," Hamill said.
"We were really happy with the hit-out and the efforts of a lot of guys, especially considering the conditions.
"The ball movement was really good, and what was clear was the strong depth we have at the club at present."
Ben Long and Mav Weller were lively up forward, with Hamill particularly pleased with their defensive pressure.
"Longy moved well and looked dangerous, but what was most impressive was the defensive pressure he and Mav were able to put on," he said.
"Jack Lonie, Sam Gilbert and Nathan Wright also enjoyed solid performances and will be in the mix next week for the Round 1 AFL side."
The work of Brandon White, Bailey Rice, Hugh Goddard and Logan Austin in defence was another positive according to Hamill.
Unfortunately, Darren Minchington's day was ended by a knee injury early in the game, with subsequent scans revealing a media ligament strain.
The injury is expected to sideline the small forward for four-six weeks.
While Nick Coffield and Hunter Clark continued to impress in Thursday night's JLT match, Hamill said they are not the only youngsters making an impression at the Saints.
"We were really pleased with the work of Oscar Clavarino on Saturday, with his ball-use a highlight in the back half."
"Doulton Langlands also exploded away from contest a few times and really showed his speed."
Fellow draftee Ben Paton remains sidelined with a thumb injury.
St Kilda players will now hit the training track as the countdown to the Round 1 clash with Brisbane begins.