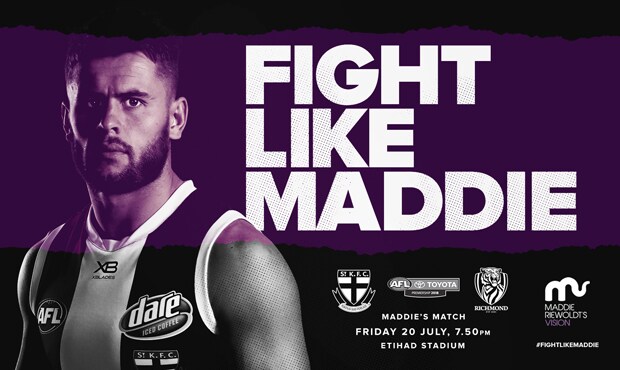 St Kilda v Richmond
Friday 20 July - Etihad Stadium
Gates open: 5.45pm Match starts: 7.50pm Broadcast guide: click here.
Team announcement: TBA.



Maddie's Match 2018
For the third time, the Saints will take on the Tigers for Maddie's Match as we raise awareness and funds for Bone Marrow Failure Syndromes (BMAFS) research.
This year, in partnership with the State Government, Maddie's Vision, the AFL and Etihad Stadium will aim to raise $300,000, with every dollar oto be matched by the State Government. Help us make a real difference to the lives of families struggling with Bone Marrow Failures Syndromes and empower them to #FightLikeMaddie
Be in your seat by 7:20pm for the full Maddie's Match experience.
Get your phone lights ready as Paul Dempsey performs a favourite of Maddie's, the powerful 'You'll Never Walk Alone.'
Each Saints' goal will raise money for Maddie's Vision, as Holman and Dare Iced Coffee have pledged to donate $250 per goal, each.
Keep an eye out for your favourite celebrities, Nick Riewoldt, Matthew Richardson, Hamish McLachlan, Georgia Love, Bob Murphy and Dee Dee Dunleavy in the Cash Grab.
---
Thanks to our partners and friends of Maddie Riewoldt's Vision, RSEA Safety, Pepper Money, McDonalds, Salters and Supagas for all kicking in money for the Cash Grab.
Drink it through! Grab your Dare Iced Coffee poster on your way into the Stadium and keep it handy for our quarter time activation. Just by being in your seat and answering the questions on the big screen you have the chance to win a team signed guernsey and $200 eftpos card.
Have you got your halo on? On your walk through from the station, keep an eye out for the squad of Owens who will be handing out your free #HalosOn Headband. Be in your seat before the first bounce and get your halo on as you listen to the sounds of Beyoncé throughout the stadium.
Are you coming with a special someone? Be in your seat at three-quarter time to play Kiss Cam!
Saints Say Thanks, thanks to RSEA Safety! At three-quarter time, thanks to RSEA Safety, we are thanking our most loyal fans. With up to $2,000 worth of prizes up for grabs each home game, make sure you're in your seat to win.
AVJennings Spot the Ball is back! Tell us which square the ball is in and you could win $500 thanks to AVJennings. Check out the image and submit your answer here: Spot The Ball Rd 18
Thanks to Etihad Stadium, Saints members will receive a 10% discount off all food and beverage purchases throughout the stadium (excludes alcohol). They're also stocking limited-edition doughnuts, available for purchase at select outlets.

Coming along to our third Maddie's Match this week? Grab a Maddie's Membership here.


Maddie's Match merchandise available at Gates 4, 5 & 7, externally at Gate 5 and on the footbridge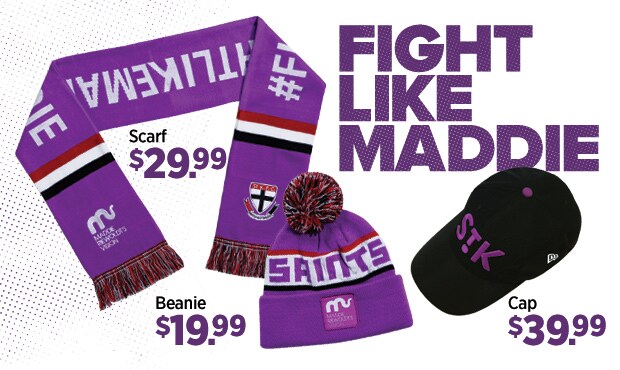 There are still tickets available here.



R10, 2018, Richmond 15.15 (105) d St Kilda 12.5 (77) at the MCG
R23, 2017, Richmond 19.8 (122) d St Kilda 12.9 (81) at the MCG
R16, 2017, St Kilda 21.12 (138) d Richmond 10.11 (71) at Etihad Stadium
R22, 2016, St Kilda 7.13 (55) d Richmond 6.10 (46) at the MCG
R16, 2015, Richmond 13.11 (89) d St Kilda 10.13 (73) at Etihad Stadium



Train
Southern Cross Station is located adjacent to Etihad Stadium. It is a short walk across the Bourke Street pedestrian footbridge.
For up to date public transport information in Victoria including timetables, service disruption information or ticketing visit ptv.vic.gov.au or download the PTV App.
Car
Gameday parking at the Etihad Stadium: undercover car parks are available for $30.00. The car park can be accessed via Bourke Street. Please note Etihad Stadium Carpark has a maximum clearance of 2.10 metres.