About
Established in 2014, the St Kilda Football Club Foundation Limited is the entity through which donor support for identified St Kilda Saints Football Club Limited projects is directed. Donations received into the Foundation provide for the funding needs of specific club projects over and above what normal operating revenue would fund.
The charter of the Foundation is to market and raise funds for approved football club projects.
The Foundation structure provides transparency and reliability to ensure donors have confidence that their donations are allocated for their intended purpose and directly support the nominated project/s – for example Reimagine Moorabbin campaign (and can NOT be allocated to the normal operating business/revenue of the football club).
An independent Foundation Board of Directors, with each Director providing integrity and a unique skillset.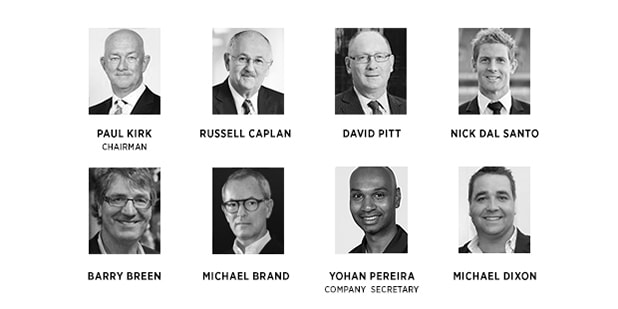 Australian Sports Foundation
The Australian Sports Foundation (ASF) was established by the Australian Government in 1986, after the Australian Sports Commission Act 1985 called for the creation of a company to support the development of sport in Australia. The ASF's mission is to raise money for Australian sport.
The St Kilda Football Club Foundation Limited is registered with the ASF so that the Foundation can embark on fundraising campaigns for projects it has listed with the ASF.
The ASF's recognised in the Income Tax Assessment Act (ITAA) 1997 as a Deductible Gift Recipient which enables donations of $2 or more to be tax deductible.
Donors complete an ASF donation form so that donations are made to the ASF, allowing donors to use ASF's tax deductible status to claim tax relief for any donation of $2 or more. Donors nominate a designated project as their preferred beneficiary and the ASF then grant these monies raised to the nominated project.
Donate
Thanking our donors
Each donor will be privately and personally acknowledged for their contribution by the Club and Foundation.
Each donor will be publicly recognised for their contribution. The level of recognition will be reflective of the contribution and be formed in consultation with the donor. The donor may prefer to be anonymous.
Donor List
Darryl Abotomey
Gregory Adams
Rosemary Adams
Adam Aiello
Jane Akhurst
David Alberton
Ione Aldons
Sonia Aldons
Ben Alexander
Kerryn Alexander
Sarah Ali
William Alpine
Manfred Altermatt
Dean Anderson
David Anderson
Trudy Anderson
Chris Appleby
Robert Apps
Geoff Archer
David Arnott
Daniel Arthur
Ryan Aschenbrenner
David Ashley
Barry Ashlin
David Atkin
Gail Atkinson
Denis Axelby
Stuart Aylen
Cheryl Baer
Jeff & Ann Bailey
Ken Baker
Dirk Balthazaar
Theresa Banfield
Geoff Barker
Megan Barling
Colin Barnes
Marc Barthelson
Andrew Bassat
Paul Bassat
Edward Bastow
Dale Bateman
Glenn Bates
Garry Beauchamp
Bill Belbin
Ian Belford
Anthony Bell
Imogyn Bellman
D Bendierks
Kevin Bentley
Michael Berce
Thomas Bieg
Erick Bieg
Adam Bierenkrant
Simon Biggins
Josephine Biggs
Luke Billing
Jack Billings
Ian Bishop
Zoran Blagojevic
Greg Blood
jeanette Blythman
Roger Boast
Simon Bolles
Travis Boniface
Andrew Bonner
Phil & Gina Bonney
Harry Boon
Jacob Boon
Jerome Borazio
Harold Borg
Kevin Bowler
Jan Boyce
Justin Bradx
Michael Braham
John Braham
Michael Brand
Peter Brasher
Judith Bray
Glenn Brearley
Robert Brewer
Andrew Bridge
Stephen Briggs
Ian Briggs
John Briglia
Wendy Broadbent
Gary Brodie
Jon Broome
Errol Broome
Pamela Brough
Peter Brough
Richard Brown
Paul Brown
Jeanette Brown
murray browne
Paul Bryant
Bob Burdeu
Wayne Burgess
Mark Burley
Callum Burns
Edna Burslem
Tracey Burton
Ann Butcher
Jean Buxton
Roger Byrne
Patrick Cahill
Kerrie Caleca
Andrew Campbell
Catherine Campbell
Russell & Eva Caplan
Annette Carey
Paul Carmichael
Edward Carmine
Catherine Carolan
Dr Leon & Brandon Carp
Fiona Carroll
Dan Casalaz
Lyndsey Cattermole
Brett Challans
Ross Chambers
David Soen Chan
Ralph Cheeseman
Brandon Chizik
Pauline Christison
Sharon Churchill
Andrew Clark
David Clarkson
Robin Clements
Ken Clements
Sean Clerehan
Maria Clipstone
Simon Cocker
Flora Colaneri
Russell Cole
Sara Coleman
Greg Coleman
Heather Colley
Emily Collin
Nicole Collins
Seth Colquhoun
Harry Commins
Adam Conboy
Ross Congleton
M Conheady
Sue Connell
Meryl Conroy
High Construction
David Cooper
James Cooper
Val Copeland
Barbara Cornish
Rory Costelloe
Lewis Costin
Jon Couston
Robin Cox
Jackie Craig
Faye Croft
Stephen Cronin
Scott Croxford
Kathrine Curle
Matthew Curtis
Darren Curyer
Kalani Cust
Bianca Cutler
Y Dacey
Howard Daff
Rodney Dalton
George Darsaklis
Brendon Davidson
Adam Davidson
Christopher Davies
Patricia Davies
Russell Dawson
Georgina Day
Lesley Day
Joy de Jong
Adrian De Luca
Michelle Deas
Ron Debeen
Andrew Decet
Tim Delaney
Stevie Dellamarta
John Dever
Mark Dewsnap
Orie Di Cerbo
Rowan & Jack Dickens
M Doery
Janelle & Mia Donnelly
Suzanne Donohue
D Douglas
Gary Douglas
Lawrance Dove
Janice Drake
Trevor Dunbar
Gordon & Michele Duncan
Warren Duniam
Rod Dunlop
Jade Dunn
Clarence Dunning
Peter Dunstan
Ian Dutton
Craig Dymock
Denise Eade
Ron Eade
Michael Eagling
Daryle Eaton
Allan Eaton
Martin Ebdon
Peter Ecker
Rod Eckholdt
Angela Eden
Gary Eden
Shane Edwards
Chris Egan
Ben Eichler
Robert Eldred
James Elliott
David Elston
Edwina Emery
Peter Esdaile
Richard Evans
Greg Ewing
Teage & Tina Ezard
Jeff Fain
Carole Fanshaw
Adam Farchione
Paula Farchione
Glenn Farr
Natalie Farrell
Debra Farrelly
Kerri Faull
Janet Fee
Janice Fenton
Steve Feren
Claire Ferguson
Tricia Fidock
Anne Fidock
Matt Finnis
Conor Fitzmaurice
Sean Fitzmaurice
Maxwell Fitzsimmons
James Flanagan
Peter Fleming
Catherine Fletcher
Lyn Fletcher
Graeme Flood
Darren Ford
Andrew Ford
Russell Fort
Marian Fortune
Andrew Foster
John Foster
Beverley Fowler
David Fox
Paula Fox
David Francis
Sam Franzi
Helen Fraser
Gayle Fraser
Donald Fraser
Janette Frazer
David Freedman
Josh Freeman
Andrew Freemantle
Stephen Freyer
Luke Galloway
Matthew Galvan
Mark Gamble
Elaine Gannon
Lois Gaskin
Jarryn Geary
Don Gibbs
Rod Giddings
Graeme Gill
Margaret Gill
Belinda Gillies
Lindsay Glenn
Hugh Goddard
Joshua Godwin
Daniel Goldman
Tad Golonski
Michael Gombos
Mario & Deanna Gomizelj
Nick Gonzalez
Gary Goodings
Brett Goodwin
Kathryn Gosney
Iain Gould
Anne Graham
Jeffrey Graham
Ross Grant
Mathew Grant
Malcolm Gray
Xavier Gray
Vinny Griffith
Ron Grimsey
Michael Groves
John Groves
Colin Grumley
Chris Guest
Manfred Haala
Keith Hagen
Jenn Hain
Christine Halket
Ken Halkett
Monica Hall
John Hamilton
Kerry Hann
Lisa Hannon
Lynette Hansford
George Harasymyszyn
Jullie Harders
Hayden Hards
Kevin Harford
Kim Hargrave
Anthony Harold
Peter Harris
Norman Harris
Brendan Harrison
Todd Hartley
Gillian Hartman
Richard Hawley
Steven Hay
Carole Hayes
Pam Heald
Bruce Healey
Tom Healey
Lucy Healey
Bernhard Held
Harry Heller
Bill Hemphill
Marie Henderson
Julie Henry
Louise Henry
Louise Henshilwood
Rick Hibble
Alisha Hickey
Adam Higgins
Debra Hine
Neil Hobbs
Geoffrey Hobson
Helen Hobson
Arthur Hole
Margaret Hollingsworth
Errol Holmes
Joshua Holwell
Lindsay Hone
Derrick Hong
Linden Hope
Allan Hopson
Matt Hornsby
Len Hosking
Mark Howiard
David Howie
David Howie
Janice Howie
Brett Hudson
Jackie Hughes
David Hughes
Chris Hughes
Kay Humphrey
Alison Humphreys
Shirley Hurley
Carl Hurwood
Stephen Hutchinson
Hans Huysmans
Lorraine Hyndman
Graham Ihlein
Steven Isaacs
Melanie Isaacs
Sue Jackson
Craig Jarvis
Peter Jeffery
Steven Jessup
Carol Jewell
Peter Johns
Philip Johnson
Maureen Johnston
David Jones
Mark Jones
Greg Jones
Cara Jones
Ian Jones
Jacquie Jones
Paddy Joyce
Timothy Kacimaiwai
Adam Kahlberg
Robert Kaye
L Keall
Dawn Keast
Daniel Keen
Daniel Keen
Matt Keenan
Vilma Keenan
Paul Kelly
John Kelly
Gerard Kelly
Frank Kelly
Nick Kelton
Mick Kendler
Norman Kennedy
Stephen Kennedy
Jackie Kenny
Greg Keys
Brent Kimm
Bev King
Paul & Julie Kirk
Andrew Kirkland
Kevin Kishere
Laurie Kneebone
David Knight
Simon Knight
Nick Konstantatos
Louis Koper
David Kostal
Simon Kostoski
Olivia Kotzapauldis
Margaretha Kozlowski
Doug Krawec
Stephen Kress
Ted Kruger
Brian Langskaill
Cam Lappin
Stephen Larsen
Patrick Laurence
Madison Law
Stephen Lawrence
Peter Lay
Mark Leach
Michael Lefebvre
Jakob Lefevre
Robbie Lehman
Craig Levin
Ross Levin
Robert Levin
Michael Levin
Geoffrey Levy
Rory Lewis
Vaughan Liddelow
Tom Ligeti
John Logan
Sam Lombardo
William Longden
Peter Loone
Gary Lorigan
Paul Lourey
Tony Lovelock
Megan Lowe
Sharon Lowry
Bruce Luke
Martin Lumetzberger
Geoff Luxton
Henry Macgibbon-Parker
Sally Macindoe
Jonathan Macleod
Wendy Madden
Melissa Maddick
Margaret Maffey
Stephen Main
Tony Malone
Clinton Mander
Anna Mandusi
Antonio Mangiardi
Mathew Mann
Len Manzie
Vivian Marchiori
John Margheriti
John Marinopoulos
Andrew Marks
Peter Marriott
Adam Marshall
Sonja Marshall
Leanne Martin
Eric Martin
Michael Martin
Claire Martinovic
Pauline Mason
Abdul Masri
Karen Masson
Michael Matthews
Kelly Mayberry
Angus McAllister
Peter McCalum
Dean McCarthy
Brad McCarthy
Jean McColl
Matt McCoy
Elizabeth McDonagh
James McDonald
Ivy McDonald
Colin MCELWEE
Kevin McGarry
Anne & Geoff McGeary
Sue McGrath
Stuart McIntyre
Alison McIvor
Paul McKenzie-McHarg
David McMeeken
Michael McNamara
James McNamara
Brian McNamee
Malcolm McPhie
Andrew Meehan
Michael Melton
Robert Messina
Darryl Mills
Leonie Mills
Bradley Milnes
Alexia Mingos
Tammy Mitchell
Mark Mitchell
Ian Mitchell
Robert Mitchell
Wayne Mitchell
John Mohnacheff
Frank Molino
Elizabeth Moloney
Christopher Moody
Lindsay Moody
Keith Moore
Sam Morello
Brian Morgan
Carl Morley
Colleen Morrison
Noel Mulcahy
James Mulcahy
John Mulkearns
David Murdoch
Peter Murphy
Paul Murphy
Paul Murphy
Marlene Murphy
A Murray
Steve Muscat
Pamela Musgrave
John Myers
Judy Myott
Steve Nankervis
Greg Neale
Robert Neil
Carol Neilson
Alan Nelson
Chris Newell
Colin Newton
Gavin Niblock
Arlene Nicholas
mark nicholds
Robyn Nicholl
Kelly Nicholson
Wendy Node
Kate Norton
John O'Brien
Peter OConnor
John O'Connor
Nick O'Connor
Jim O'Donohue
Andrew Oldale
Rob Oshlack
Chris O'Sullivan
Helen Overend
Darren Page
Len Page
Patrick Page
Geoff Palmer
James Papadopoulos
Paul Parlane
Kevin Patchell
Norm Paterson
Richard Patey
Nicholas Paton
Glennis Patston
David Patston
John Payne
Kim Peacock
Stephen Peak
Tony Pearce
Ron, Mark & Scott Pedder
Yohan Pereira
Mark Perree
Colin Peters
Robert Peterson
Margaret Phillips
Brad Pike
Roslyn Pike
David & Gayle Pitt
Wayne Pitts
Elaine Pizzey
Ray Platten
Ilana Port
Chris Potter
Gerard Potter
Xavier Poynton
Ashleigh Poynton
Bob Prestige
Richard Proctor
Grant Pryor
David Putt
Greg Putt
Chloe Quarmby
Geoff Quirk
Tom Quirk
Julie Rackstraw
Tamara Rafton
Sharife Rahmani
Steven Ram
Andrew Randall
Lya Rash
Tracy Rasmussen
Bob Redding
Bernadette Rees
Eric Reid
Luke Reiser
Chris Renwick
Caitlyn Rice
Allan Rich
Jan Richard
Gary Richardson
Luke Richardson
Dean Richardson
Jan Rickard
Lynne Roberts
Judy Roberts
Mac Roberts
Judy Roberts
A.D Robertson
John Robertson
Ken Robeson
Danni Roche
Graeme Rodgers
Nino Rodrigues
Cam Rogers
Katrina Rolfe
Carolyn Roscholler
Maureen Rosenboom
Ian Rosenfeld
Sebastian Ross
Elizabeth Rotberg
Cheryle Rowe
Andrew Rowell
Neil Rowlands
Geoffrey Rowse
Peter Rozen
Richard Rozfin OAM
Jack Rush
Michael & Fran Russell
Monica Russell
Peter Russo
J Russo
Gerry Ryan
Roderick Ryan
Nerina Salanitri
Saviour Sammut
Kim Samuel
Gail Sanders
Shirley Saunders
Merren Saunders
Geraldine Sazenis
Andrew Schoenmaekers
Graeme Scholes
Joshua Schreuder
Charley Scoleri
Steven Sell
Craig Semple
Robert Semple
Jay Shepherd
Diane Sherman
Jonathan Sherman
Jem Shorland
Andrew Shostak
Brian Sidlo
V Simmonds
Brian Simpson
Ian Sinclair
James Sinclair
Gary Sinclair
Marjorie Sinclair
Kevin Sinclair
Mary Singleton
Paul Skaraiev
Richard Skok
Edward Skok
Edward Smelt
Anne Smith
Katie Smith
Michael Smith
Ken Smith
Duncan Smith
Ian Smith
Neville Smith
Andrew Smith
Beverley Smith
Robert Snowden
Jenni Sokol
Peter Sokolowski
Lisa Solazzo
Paul Solomon
George Sotiriadis
Gwynneth Souter-Robertson
Scott Southam
Liz Spencer
Peter Sprenger
Laurice Stainsby
Mark Stanley
Sadie Stevens
Steven Stevens
Julie Stevens
Sam Stevens
Michael Stevenson
Jan Stevenson
Larry Stewart
Colleen Stewart
Ian Stocks
Dianne Stoner
Robert Strachan
Steve Stranks
Nick Stretch
Jon Stretch
Peter Stuart
Brett Sullivan
Peter Summers
Enid Sutherland
Lee Sutherland
Graeme Sward
Bernie Sweeney
Kim Tangey
Glenn Tanner
Jamie Tate
Susan Taylor
Philip Taylor
Geoff & Taylor
Leon Terenyi
Peter Tesoriero
Sal Tesoriero
Mary Thibou
Mary Thomas
Lawson Thomas
Andrew Thompson
Christine Thompson
Andrew Thompson
David Thompson
Sam Thomson
Julie Tierney
Patricia Tobrady
Susan Todd
Esther Torosidis
darron Tospell
Frances Tregear
James Trotman
Sandra Tuddenham
Andrew Turner
Michael Uberti
Mark Upton
Anna Upton
Mark Upton
Frank van Haandel
Mark Vassella
Marc Verrier
Frank Viandante
Michael Vidor
Lorna Vidor
Carlo Vinaccia
Marjorie Vine-Upcraft
Tim Vining
Ann Vize
Jean Vuillemain
Andrew Waddington
John Wall
Dorothy Wall
Melanie Walsh
Nathan Walsh
Jan Waltham
Sandra Walvisch
Rhonda Warburton
Gayle Ward
Peter Ward
Robert Warhurst
Rex Warnes
Owen Warren
Fred Warschauer
E Wartin
Stephen Wastie
Steve Waters
John Waterston
Paul Watson
Ian Watson
George Watson
Paul Watson
Lily Watson
Angela Watson
Glen Watt
Ian Webb
Hurst Weeske
Malcolm Wegener
Susan Weight
Isabelle Weir
Tom Weir
Linda Weiss
Amanda Welch
Glenda Werner
Peter West
Bruce Whale
David Wharton
Peter Wheeldon
Mark Wheeler
Mark Wheeler
Simon Whelan
Martin Whelan
Christine White
Samantha White
Richard White
Dorothy White
Vera White
Greg White
Paul Whitford
Stuart Wickham
Brendon Wicks
Richard Wigan
Ron Williams
Tim Williams
Noel Williamson
Mark Williamson
Pam Willis
Flora Wilmont
Rodney Wilson
Ian Wilson
Stuart Wilson
Craig Wilson
John Wilson
Peter Wilson
Jacq Winters
Abe Wiser
Cameron Wood
Roger Wood
Michael Woolhouse
Sara Woolley
Rosemary Worssam
David Wright
Yvette Wroby
Robert Yewers
Kurtis Youd
Jeanette Young
Sandra Young
Warren Young
John Young
Michael Young
Saints Bequest Society
The AFL competition is a fiercely fought battle for survival and all Victorian teams are under increasing pressure to maximise their income over the long-term as the AFL continues to grow on a national level.
This battle highlights the value of a bequest program. It has long been a long-held hope of mine that our club take this initiative. It's a great form of self-help for as well as providing a wonderful sense of belonging, a program of this nature offers the opportunity to establish life-long relationships.
This concept carries the added advantages of enriching the love affair between supporter and club. Taking part in a bequest program allows members, especially the aging ones to show their gratitude for the pleasure the club has given them over the years.
I accept the esteemed title of Patron of the Saints Bequest Society with great honour and urge you to consider taking part.
Neil Roberts
Saints Bequest Society Patron
Contact
For further information or to discuss, please contact Glenn Tanner,
Email: glenn.tanner@saints.com.au
Phone: (03) 8765 4379
St Kilda Football Club Foundation
RSEA Park
32-60 Linton Street
Moorabbin
VIC 3189