REIMAGINE MOORABBIN
Stage 2 – Grandstand, Aquatic & Wellness Centre
Thanks to the support and generosity of many club benefactors and supporters, we have returned to our spiritual home at RSEA Park Moorabbin.
This iconic ground is encapsulates the St Kilda spirit and provides the physical link to our past.
Most importantly, it is the place where the next chapter of success can be written.
It is incredibly exciting to have transformed Moorabbin from its former state of decay into an elite AFL training facility, administrative headquarters, thriving social and retail hub, and a place where our community can celebrate our history.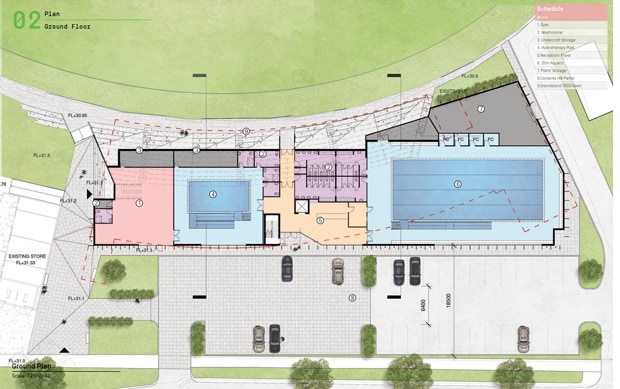 The facility will include a state of the art Aquatic & Wellness centre

We are embarking on the second stage of our development at RSEA Park which will help us unlock the full potential of our new training and administrative base and deliver:
a) The return of elite football (AFLW and VFL) to our heartland – nearly 30 years after we last took the field against Fitzroy in August 1992
b) A strategic advantage in our football program with elite rehabilitation facilities
c) A facility to provide health and well-being services to our local community.
We warmly invite our members and supporters to make a contribution to our Stage 2 – Grandstand, Aquatic & Wellness Centre.
This contribution will help us truly reimagine the Saints, unlock our full potential and achieve our next Premiership!

To learn more about these plans and the St Kilda Football Club Foundation, please contact Glenn Tanner via glenn.tanner@saints.com.au or (03) 8765 4379


MAKE A TAX DEDUCTIBLE DONATION NOW
The Reimagine Moorabbin project is developed by St Kilda Football Club Foundation Limited in partnership with the Australian Sports Foundation (ASF). Donations are processed via the ASF website.
Annual Payments will occur consecutively each year on the same date that the initial payment is processed. The ASF collects your personal information for the purposes of processing and receipting donations you make, sending you information about our philanthropic activities, notifying you of other sporting projects you may wish to consider supporting, and for other purposes set out in our privacy policy, available at asf.org.au/about/privacy-policy. Our privacy policy explains how we collect, use, store and disclose your personal information, the consequences for you if we do not collect this information, and the way in which you can access and seek correction of your personal information or complain about a breach of privacy law. Details of our Terms and Conditions are available at asf.org.au/about/terms-conditions. All donations over $2 are fully tax deductible. ABN 27 008 613 858 | PO Box 176 Belconnen ACT 2616 | T 02 6214 7868 | info@asf.org.au | asf.org.au