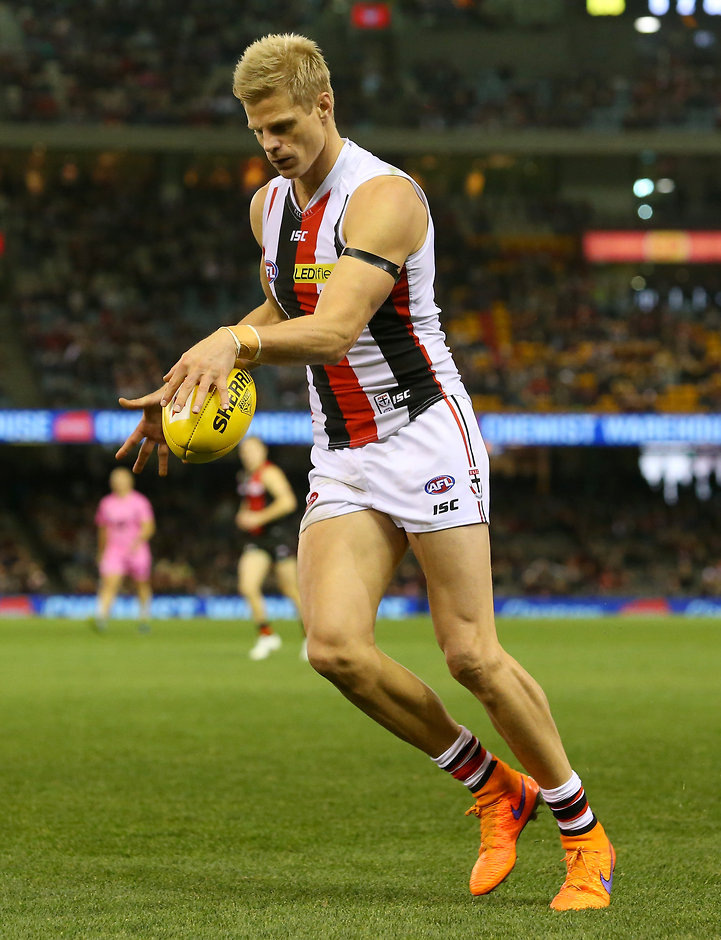 I got a lot of feedback in the gym. 'Whatchu doin boy? Put that stuff away.'
Nick Riewoldt discusses the moment he walked into an American gym.
NICK Riewoldt is enjoying his off-season in the United States, combining time with his young family and wife Catherine's siblings with a regular weights and cardio regime.
The 298-game veteran, who turned 33 last Saturday, will not return to full training at Linen House Centre until the new year.
Aside from allowing himself to physically refresh, Riewoldt said part of Texas' appeal was his anonymity in day to day life.
"It's a long way from Melbourne and not too many people recognise me walking down the street, which is good," Riewoldt told Triple M recently.
"It's nice to get away and spend some time with Catherine's family over here. She obviously sacrifices a lot. To be able to bring James home to Catherine's parents is enjoyable."
RELATED: Roo says thanks on behalf of MRV
The six-time Trevor Barker Award winner does not neglect his training while overseas and recalled the first day he went to the gym dressed in attire not considered normal in America.
"Most days I just get up and go to the gym a few hundred metres up the road," he said.
"It's full of 300-400 pound African-American men. I went there in my running tights without any shorts over the top, like a lot of the AFL boys do. I got a lot of feedback. 'Whatchu doin boy? Put that stuff away.'
"It was pretty funny. I've made some good friends over here at the gym and places like that."
In among gym and family time, Riewoldt has also been enjoying the American sporting culture.
"The south is almost a different country in itself but it's really enjoyable," he said.
"They are heavily into their football like college sports and the NFL. I went to see the [Houston] Astros play in the baseball. It's a really enjoyable part of the world."
RELATED: Roo set for extended break
If named captain for 2016, Riewoldt will skipper the Saints for the 200th time in round one and play his 300th AFL game in round two.
He will meet up with the International Rules team in New York in the second week of November prior to Australia's Test against Ireland in Dublin on November 21. The game will be broadcast live on Channel 7.
(function(d, s, id) { var js, fjs = d.getElementsByTagName(s)[0]; if (d.getElementById(id)) return; js = d.createElement(s); js.id = id; js.src = "//connect.facebook.net/en_GB/sdk.js#xfbml=1&version=v2.5&appId=66316020565"; fjs.parentNode.insertBefore(js, fjs); }(document, 'script', 'facebook-jssdk'));