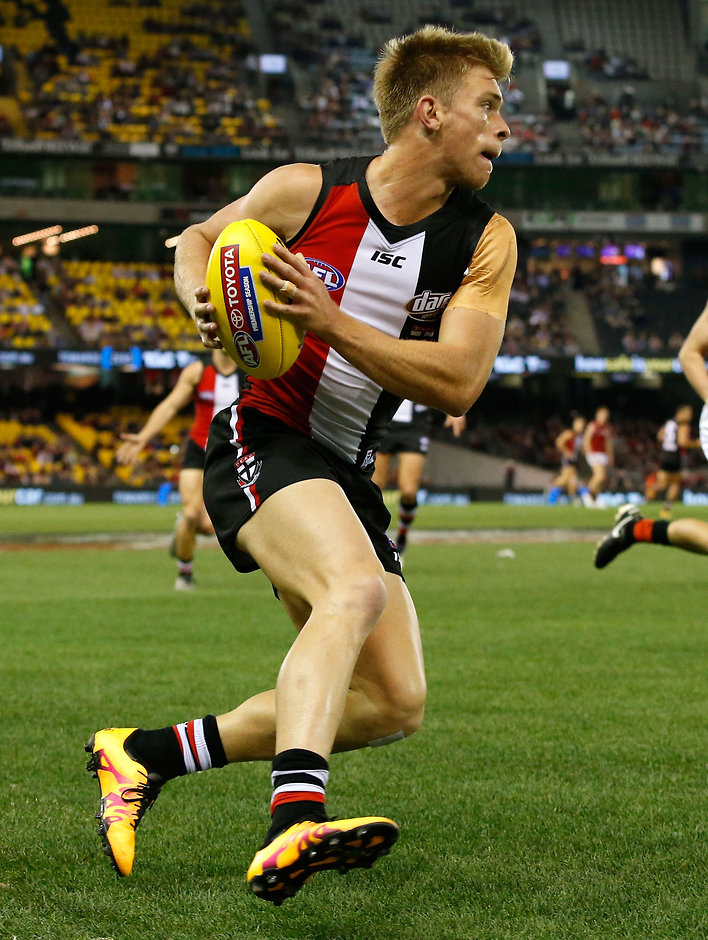 We just really wanted to come out and respond and it was really based around our effort and contested ball.
Seb Ross
St Kilda midfielder Seb Ross says the performance against Carlton was indicative of the Saints' desire to respond after underwhelming efforts against Adelaide and West Coast away from home.
Wins under the roof at Etihad Stadium against Fremantle and Essendon came either side of 15-goal plus losses against the Crows and Eagles on the road, resulting in heightened scrutiny in the lead up to the Round 12 clash against Carlton.
Ahead of his 50th game against Geelong on Saturday night, Ross indicated the 32-point win over the Blues was delivered from effort, which was reflected in a comprehensive pressure factor win and +27 tackle count victory.
"Well if you look back on it, we had a really poor performance against West Coast over there and then following on from that Adelaide the week before (the game against Carlton). So we weren't really happy with how those 100-point losses went down," Ross told reporters at a press conference on Tuesday.
"We just really wanted to come out and respond and it was really based around our effort and contested ball. I think we were able to deliver on those two things on the day and it got us the result."
Limited Edition History Book: Celebrating 50 Years 1966-2016 The Archives Edition
Ross, 23, was one of St Kilda's best against the Blues, collecting 33 possessions to continue his stellar start to 2016. After injury ravaged his 2015 campaign, the North Ballarat product has been one of the big improvers at the Saints, averaging 26.6 disposals, 4.7 inside 50s, 4.6 tackles and 4.2 clearances across the opening 12 rounds of the season.
Halfway through Alan Richardson's third season at the helm, Ross said the Saints must now be able to react to momentum shifts in games, rather than waiting until review meetings early in the week to learn from their mistakes.
"We can't afford to have those 100-point blowouts, we've got enough guys in the team that have been around for long enough now to realise when the games not going our way and they've got a bit of momentum, we've got to figure out ways to change that in the game and not wait for Monday to come around and sort it out then," Ross said.
St Kilda faces a white-hot Geelong outfit at Etihad Stadium this weekend, with the Cats moving into top spot on the ladder following three consecutive victories over premiership aspirants Western Bulldogs, North Melbourne and Greater Western Sydney.
Experience this Sunday's game in the comfort of the Premier Lounge