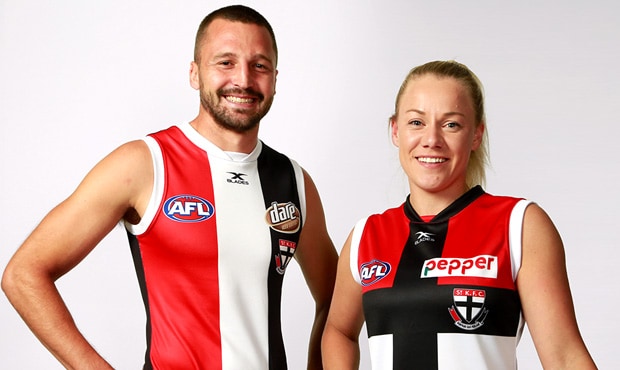 For the first time ever, it won't just be men running out in the signature St Kilda tri-colours this weekend.
The best 22 from AFL Victoria's Southern Women's Academy will sport the red, white and black in the ANZAC Challenge, an exhibition match to be held at Etihad Stadium before the men's game on Sunday.
St Kilda Football Club General Manager of Community Lisa Laing said the game has been a long time in the making.
"These girls have been training here at Linen House Centre for the past six months and we've loved being a part of their journey toward this game," Laing said.
"The team is made up of the best undrafted AFLW talent from the southern region.
"We have areas right along the Peninsula and all the way out to Gippsland represented."
The road to victory won't be easy for the team, facing off against the Australian Defence Force (ADF) All-Stars.
The ADF All Stars team includes four current AFLW players, but St Kilda Captain Dana De Bondt said she won't be shying away from the competition.
"This is a dream come true for all of us," De Bondt said.
"For St Kilda to give the academy girls an opportunity to represent the club and run out onto the Etihad turf is incredible."
"The girls and I are so excited to show how hard we've worked throughout the program and how committed we are to our footy."
St Kilda Football Club General Manager of Football and Performance Jamie Cox said this game reaffirms the Saints' commitment to women's football.
"We are so proud to have our club represented in this way," Cox said.
"We are still campaigning for an AFLW team and I believe this is an excellent step in the right direction.
"The goal for many of the girls will be to be drafted to the AFLW and we hope that this is, for many, the start of a long association with the Saints."
Gates will open for the match at 12.30pm, with first bounce set for 12.45pm.
Skip the queues - Book your Round 5 tickets online now via Ticketmaster.