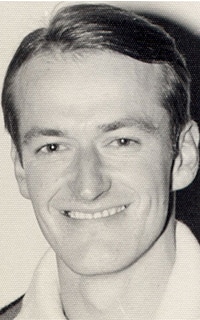 Bruce McMaster-Smith was a genuine character who stands in the memory more prominently than many footballers with longer playing records.
Bruce has passed away at the age of 78.
The lightning fast wingman played just 15 games with the Saints in his one full season of 1965, but Bruce's first and last games were significant in the club's history. He made his debut in the first ever game at Moorabbin, and the 1965 Grand Final turned out to be his last senior game. Standing at 169 cms and weighing a jockey-like 60 kgs, he was blessed with great speed.
Born at Kyabram, his family moved to Melbourne and his initial sporting passion w a s athletics where he became an accomplished 100 and 200 metre runner and long jumper. He remembered in later days that after winning the Moomba Gift, actor Gregory Peck shook his hand. Peck was in Melbourne as star of the film "On The Beach".
McMaster-Smith played football at Greensborough from the age of 17 before being recruited by Fitzroy. In his first senior season of 1960 he played 10 games in the strong Lions team which was narrowly pipped in the preliminary final. After getting only limited chances the following year he crossed to Carlton. In 1962 he scored 10 Brownlow votes from his 14 games, and only 10 players in the VFL polled more.
With Ron Barassi taking over as Carlton coach, Bruce was de-listed as a wave of youth was introduced.
St Kilda snapped him up and he became a handy asset. He was often used as a shock trooper off the reserve bench and on one memorable day he showed blistering pace to run clear and boot the last minute match-winner against his old club Carlton.
In the losing 1965 grand final he suffered an eye injury in a marking contest with Ken Fraser. It proved to be his last game as he was forced out by hamstring problems and a chronic difficulty with cramps that invariably affected him in the second half of games. After half a dozen reserves games early in 1966 he could no longer continue.
He followed the Saints for the rest of his life and was a regular spectator at Moorabbin.