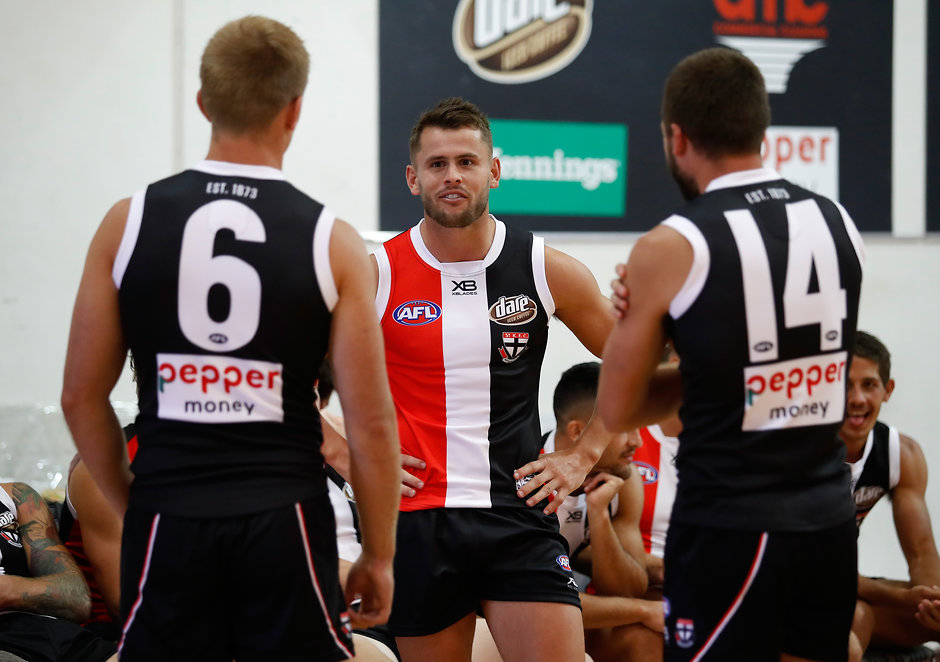 I think he's gone to a new level with his selflessness this pre-season.
Seb Ross
Reappointed St Kilda skipper Jarryn Geary has taken his selflessness to another level this summer, according to reigning Trevor Barker Award winner Seb Ross.
Geary, 29, was confirmed as captain for the second consecutive year on Tuesday when the Saints announced a five-man leadership group that includes Ross, Dylan Roberton, Jack Steven and Jack Newnes.
"I think he's gone to a new level with his selflessness this pre-season," Ross told saints.com.au on Tuesday.
"Because he's been such a good performer for such a long time, he knows he can take care of that, so now it's more about strengthening relationships with everyone and being an all-round caring bloke."
Ross said Geary grasped the baton from St Kilda champion Nick Riewoldt – the club's longest serving skipper – in a seamless transition last season, in a year where the winds of change swept through Linen House Centre.
"It was his first year last year and you wouldn't have known; he slotted straight into the role and didn't change anything that he hadn't done in the past," Ross said.
"He's a really underrated player externally, but internally we rate him as highly as anyone.
"He's got great respect from the whole club and great relationships with everyone on the list; he's got a great balance between knowing when to have a joke and when to challenge."
Ross, who is nearly at the end of his seventh pre-season after being taken in the first round of the 2011 National Draft, said the list is in a strong leadership position with a group of fourth and fifth-year players helping drive the direction of the group.
"We're in a really healthy leadership position as a group," he said.
"I think the guys in their fourth and fifth years have an understanding that the guys in the leadership group aren't that much older than them so they have a big part to play in leading the club as well.
"The input of that group is really valuable and they aren't holding back."