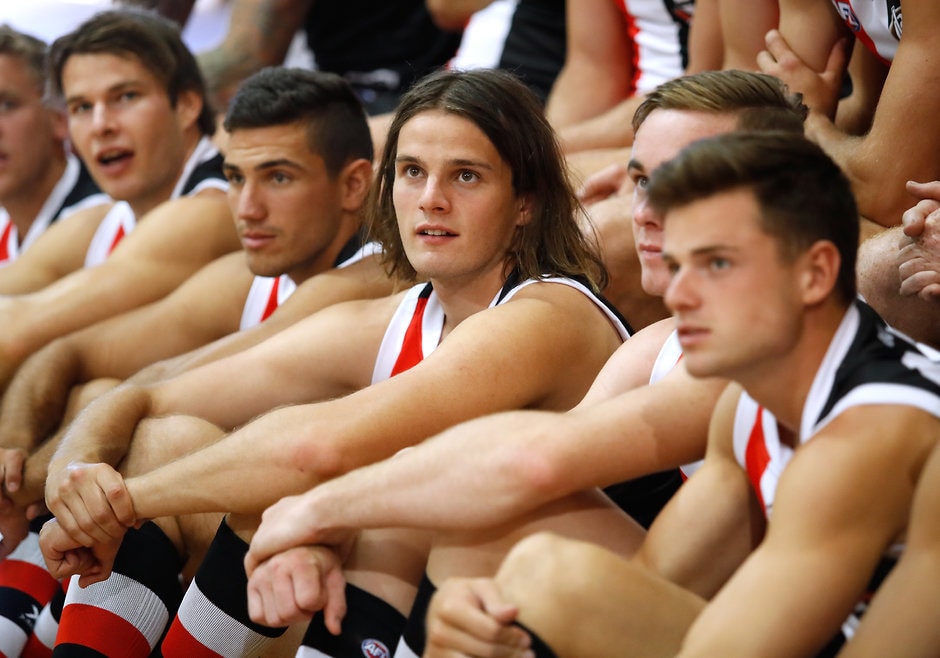 It's great to play a game and be able to play off instinct a bit more.
Hunter Clark
If Friday's match simulation is anything to go off, St Kilda supporters are going to love watching Hunter Clark go about his business.
Clark, who was the Saints' first pick (No. 7) in last November's NAB AFL Draft, flaunted all of the composure and class that he was renowned for at underage level, shining on a wing, through the middle and across half-forward at Trevor Barker Oval.
Along with Nick Coffield, who St Kilda snared a pick after Clark, the Saints have added two polished, poised youngsters that appear to have bright futures in the game.
"After a long pre-season, it was good to have a proper hitout instead of doing all the drills and running. It's great to play a game and be able to play off instinct a bit more," Clark told saints.com.au after Friday's hit-out.
"I thought I went alright; when I got my hands on the ball I tried not to rush myself and thought I held my own."
Clark lauded David Armitage's guidance in Friday's match practice, praising the experienced midfielder's ability to help him navigate through different roles and different scenarios.
"'Armo' was great for me with his leadership. He played really well too, so it was great to see him in action," Clark said.
"I was in a rotation with him and he knows every role inside out, so he helped me set up, called rotations and gave me a spell when I needed one.
"He set me up in positions to get the ball and made it easier for me to defend as well."
With his first AFL pre-season nearly safely in the bank, the 18-year-old believes his body is adjusting to the physical demands of backing up for training day in day out.
"My body is starting to cope with the program a bit better. I'm not quite as tired at night and I'm starting to feel better ahead of training," he said.
"I think I'm starting to get used to it and have adjusted to the routine before and after training."
While Clark's engine and strength have evolved over the summer in Seaford, the biggest gains he has made since arriving at Linen House Centre is in his self-belief.
"I think my confidence is probably the biggest thing that has improved across the pre-season," he said.
"At the start, I was a bit nervous to get in peoples way or make mistakes, but a few of the boys have told me to back myself early on and I've tried to do that. It's helped my footy having the confidence to back myself in."