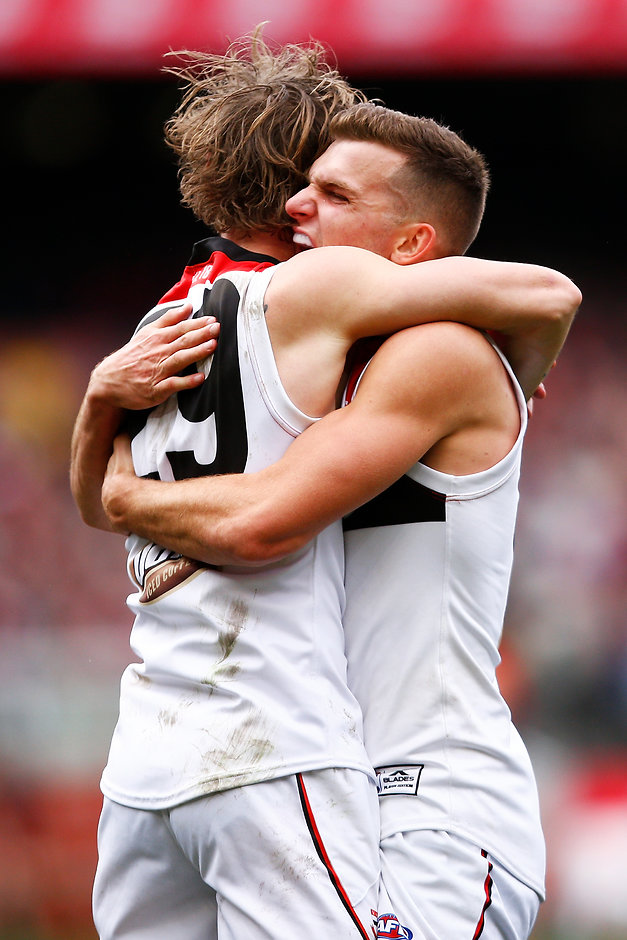 I feel much better in my body this year and better prepared for the year ahead.
Brandon White
Brandon White feels better prepared than ever before. He played three games near the end of last year and is eyeing a more permanent spot in 2018, now that Leigh Montagna is in the early stages of life after football.
After turning heads in St Kilda's match simulation session at Trevor Barker Oval on Friday, the rebounding defender said he feels more comfortable this summer and has completed more of the pre-season than in his first two years at Linen House Centre.
"I feel much more comfortable this pre-season," White told saints.com.au.
"Even going up and approaching older guys, asking them for advice and getting more involved in meetings and things like that.
"We're definitely in the deep end now; we don't really get pulled out of any drills anymore. I feel much better in my body this year and better prepared for the year ahead."
White, 21, said emerging star Jade Gresham was the most impressive player at Sandringham on Friday, making life difficult for the defenders when he was inside 50.
"Gresh was great again. You just never know what he is going to do. He makes it really difficult being a back when he's around. Although his sidestep is getting a bit old. He really stood out," he said with a grin.
While Assistant Coach Lindsay Gilbee has been with White every step of the way so far, new backline coach Henry Playfair has only been at the club for a few months, but both have had a significant impact on his development so far.
"Lindsay Gilbee has had a massive impact on my development since I started at the club – he's a big deal for me," he said.
"Henry Playfair has been great for my confidence since he got to the club. Everyone is equal with him, there is no favouring senior players over younger players.
"You can just tell he's been around the game and around a great club for a long time."
With dual All-Australian Montagna in the early stages of retirement, can White step into the shoes he has vacated?