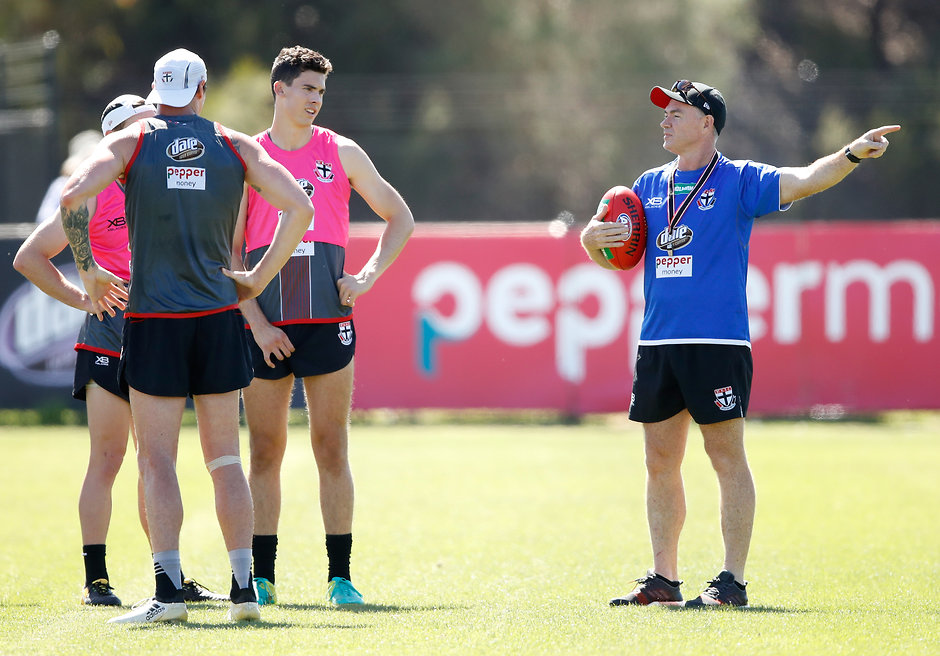 There's been a fair bit of talk about the no A-graders about our list … all I would say to that is 'yet'.
Alan Richardson
While they may not be the cream of the crop just yet, they aren't far away from entering the elite bracket, says St Kilda Coach Alan Richardson.
On the back of Seb Ross and Dylan Roberton's emergence as stars last season, Richardson is confident there is a collection of budding stars on the Saints' list who have the potential to become 'A-grade' talent in the future. Maybe even by the end of 2018.
If Ross and Roberton, who were both included in the All-Australian squad last year aren't in that bracket yet, then they are standing in the foyer.
Three-time Trevor Barker Award winner Jack Steven is one of the most underrated midfielders in the game. Skipper Jarryn Geary has been on the cusp of the elite bracket for a couple of years.
Then there is Jack Billings and Jade Gresham who might be there by the end of the year, along with a couple of others.
"There's been a fair bit of talk about the no A-graders about our list … all I would say to that is 'yet'," Richardson told afl.com.au last week.
"We wouldn't have spoken about Ross or Roberton the year before as blokes who could have a real influence on the game and they were in the All Australian conversation.
"We've got the talent there and that's our job as coaches, to get them to maximise their potential."
After winning 12 games in 2016 and 11 last season, Richardson believes his side is capable of not only playing finals in 2018, but challenging the best teams in the competition.
"We are going to be a really good team, and our want is that we are challenging this year," Richardson said.
"Fundamentally we've got to let our footy do the talking, so I'm not sure you will have me or too many people jumping out and making grand statements, but I know what we want to do.
"When you win more games than you lose in two years, you're knocking on the door for two years in a row, your group is starting to get into the 50-60 game range, and you think they're talented enough and made of the right stuff in terms of their character … we want to be a contender."