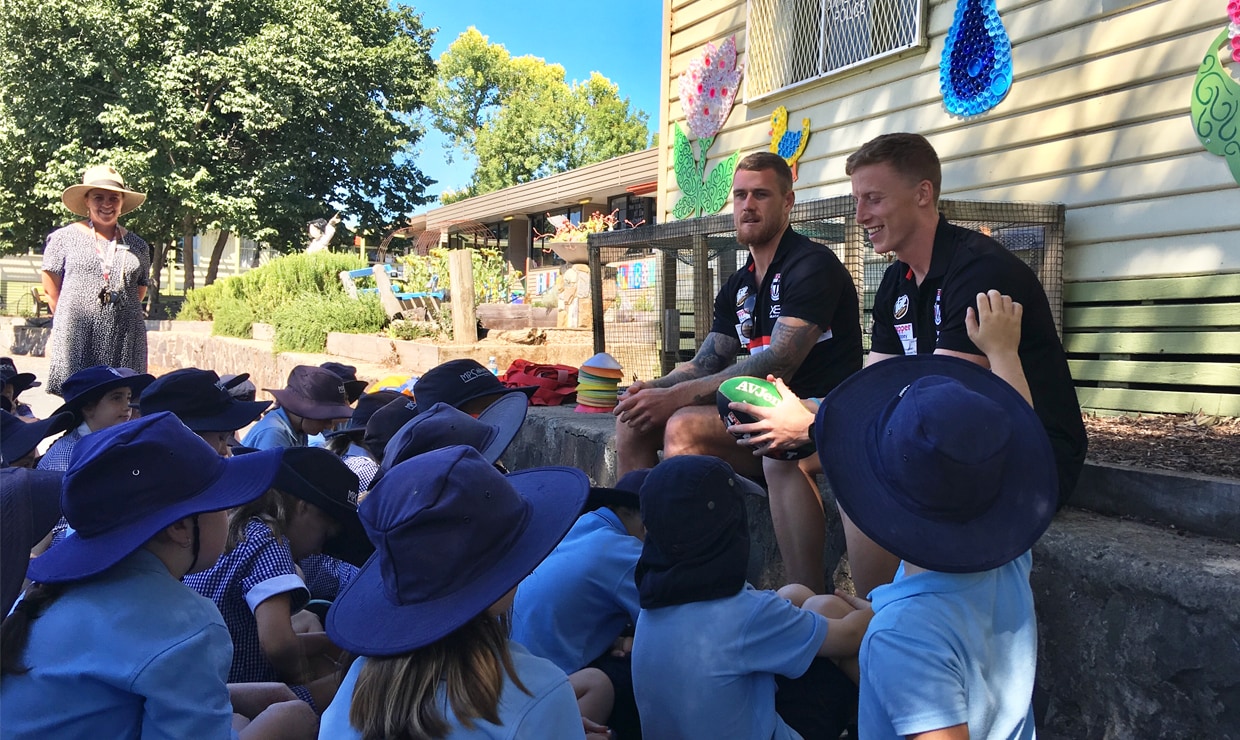 It was back to school for the Saints' this week, with the playing group visiting over 45 schools across the Bayside, Kingston, Frankston and Mornington region.

These included Yarrabah Special School, Harrisfield Primary, Mr Hira College, Silverton Primary, Spring Parks Primary, Springvale Rise Primary, St Joseph's Primary, Yarraman Oaks Primary, Chandler Park Primary, Heatherhill Primary, Cheltenham East Primary, Cheltenham Primary, Kingston Health Primary, Mentone Park, Beaumaris North Primary, Mordialloc Beach Primary, Parkdale Primary, Parktone Primary, Mentone Girls Grammar School, Moorabbin Primary, Cheltenham Secondary College, Bentleigh Secondary College, Nepean Special School, Frankston SDS, Naranga School, Mornington SDS, Kunyung Primary, Mt Eliza North Primary, St Thomas Moore Primary, Mount Martha Primary, Benton Junior College, Mornington Park Primary, Mornington Primary, Osborne Primary School, St MacCartans Primary School, Frankston Primary, Frankston Heights Primary, St John's Primary, Frankston East Primary, St Augustines Primary, Kananook Primary, Seaford Park Primary, Mahogany Rise Primary, Baxter Primary and Elizabeth Murdoch College.
Tuesday's visits marked the second and final day of the club's AFL Community Camps, which kicked off with a training session at Peninsula Grammar on Monday morning.

The camps were a golden opportunity for the club to give back to the community, while also allowing a future generation of Sainters to meet and greet their heroes.

Here are a few highlights from the day, as showcased through our social media.
---
"How many Weet-Bix does @RayConnellan40 eat for breakfast?"#AFLCommunityCamp pic.twitter.com/EswcIvu8ZO

— St Kilda FC (@stkildafc) February 13, 2018
Can you #SpotTheSaints at Chandler Park Primary School? #AFLCommunityCamp pic.twitter.com/8qBOexD8HD

— St Kilda FC (@stkildafc) February 13, 2018
The game: Octopus.
The goal: Get past @TimMembrey 🏃🏻‍♂️#AFLCommunityCamp pic.twitter.com/Esfhlj1syf

— St Kilda FC (@stkildafc) February 13, 2018
Koby's a hit at St Joseph's in Springvale #AFLCommunityCamp pic.twitter.com/p9AXVUatok

— St Kilda FC (@stkildafc) February 13, 2018

While the Saints' hit the schools, they also found time to visit some hardworking community organisations.
Pancakes and plenty of smiles at @ScdHrtMission #AFLCommunityCamp pic.twitter.com/EM02LMh4BR

— St Kilda FC (@stkildafc) February 13, 2018
It's always a good time when we get to visit the team at Wallara Australia #AFLCommunityCamp pic.twitter.com/nbWVyD6Onm

— St Kilda FC (@stkildafc) February 13, 2018