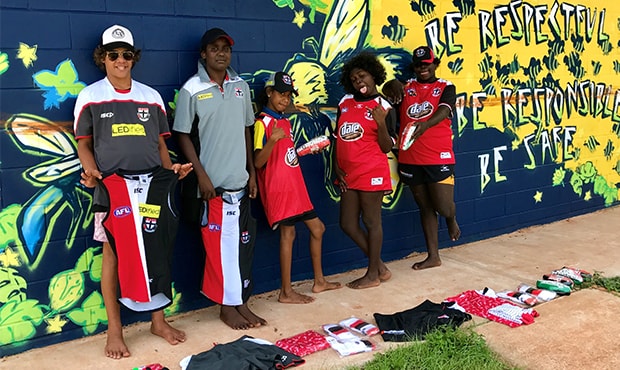 Croker Island is about as remote as it gets.

Located 200km northeast of Darwin, it sits in the Arafura Sea just off the coast of the Northern Territory.

There's beautiful beaches, wetlands and a host of horses, crocodiles and other animals roam the land.

Now, it's full of Saints' fans as well.

With an population of just over 300 people, close to 80 of those on the island are students who attend the Mamaruni School.

Within that 80 exists a dedicated team of 'Employment Pathways' students aged between 13 and 16.

Led by their teacher, Chris Errington, the Pathways students have established a community op-shop with all funds going towards educational resources and community programs.

In doing so, the students are able to learn important life skills including how to handle money, how to work as a team and how to plan for and run a small business.

And when they're not in the classroom? They're kicking the footy.

Now, thanks to their initiative, they can do so while dressed in the Saints' famous red, white and black.

With just one store on the island and no way of obtaining items for their shop, they reached out to their favourite footy clubs for assistance.


Enter St Kilda.

Through the request, the club was able to send a variety of guernseys, apparel and other merchandise to be sold in the shop.

"There are quite a few St Kilda fans on the island who are walking around sporting their team colours now," said Errington.

"A couple of Pathways students received Guernseys as a reward for effort in class, but the vast majority have gone out in to the community.

"I'm blown away that St Kilda got back to us and helped the way you did."