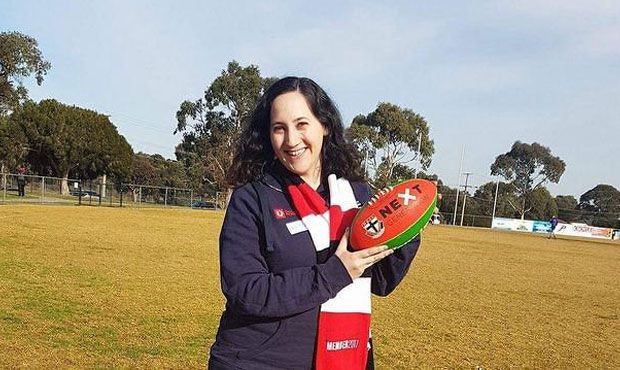 On International Women's Day, we're shining a light on the outstanding work of Saints ambassador, Reyzl Zylberman.

An AFL Multicultural Community ambassador, Reyzl has been instrumental in tackling diversity in football through the AFL Jewish Schools Cup.

In 2015 she was named the AFL Multicultural Ambassador of the Year for the South-East region, while in 2016 she recieved a similar award - but this time for the whole of Victoria.

Last year, she was announced as the AFL Victoria Community Ambassador of the Year.

Reyzl was named the AFL Victoria Community Ambassador of the Year for 2017.
Through the Jewish Schools Cup, Zylberman has been able to give young Jewish girls a reason to take up the sport and learn about the game we love.

While a pathway to play at the highest level didn't exist when she was growing up, she is determined to help girls achieve their footy dreams.

"At school, I was the girl that would play footy with the boys at lunch time because there were no teams for me to join," Zylberman said.
"But, and my parents will vouch for this, I kept optimistically telling people that one day, women would play football professionally."

The dream has now become a reality for girls nationwide, with the AFLW competition in the midst of its second season.
It's alive at Seaford as well, with the VFLW Southern Saints now assembled as our journey to AFLW in 2020 begins.

Zylberman is quick to credit the work of strong female role models in the industry, pointing to Caroline Wilson, Daisy Pearce and St Kilda's own Peta Searle as trailblazers in the eventual establishment of the AFLW competion.

"When I grew up, my footy role models didn't look like me. These women are sending us all a message – that you can do it too!," she said.

"I grew up surrounded by strong women and by a father who actively wanted to raise strong women. So, I want to be able to pass this on to other young girls."