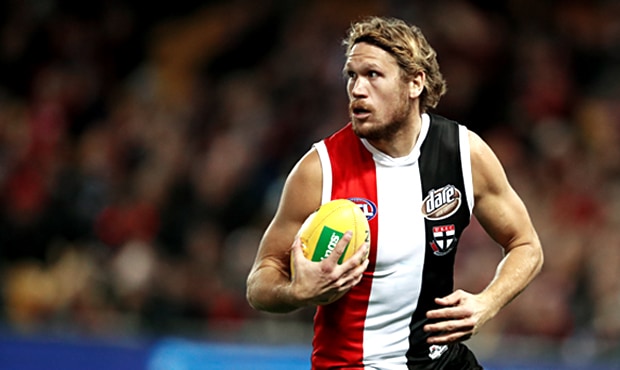 Terranora is a small town nestled upstream on the Tweed River about 60kms north of Australia's most easterly point, Byron Bay.

The tiny township, set deep in rugby league country, was the unlikeliest of hometowns for a future Saint.

A local sandy-haired Heath Ledger doppelgänger who loved surfing, golf and the outdoors found himself ripped out of the Tweed Shire and flown to Melbourne with three days' notice.

So began the footballing career of Sam Gilbert, a boy from the rugby league heartland of Australia and the product of generations of St George Illawara royalty.

Gilbert's great-grandfather, Herb Gilbert Snr, was one of the pioneers of rugby league in Australia. The inaugural captain-coach of St George, Herb is widely regarded as one of the greatest centres ever to play the game.

Sam's grandfather, Jack Gilbert, also represented St George, winning a premiership before his career was interrupted by active service with the Australian Army in New Guinea.

Gilbert followed his pedigree, playing rugby league up until the age of 15, when he was convinced by a friend to try his hand at Australian rules football. The dashing defender with the prodigious step fell in love with our game, and just four years later, was drafted by St Kilda.

Famously laidback and sporting a casual authenticity not usually found in elite athletes, "Gilbo" walked into Moorabbin on the back of consecutive preliminary final losses for the Saints.

From the anonymity of the northern NSW coast, he quickly became a key part of one of the most imposing lists ever to wear the famous red, white and black.

Gilbert managed just one game for the Saints in his first season after being selected with pick 33 in the 2005 AFL Draft.

But at 194cm and possessing both a deadly step and punishing tackle in his arsenal – a hark back to his rugby-centric upbringing – Gilbert's aggressive shut-down style of defence thrived in 2007 under new coach Ross Lyon's "team defence" game plan.

Gilbert was unusually quick for a player of his height, and his speed and agility allowed him to play further up the ground, spending more time as a rebound defender.

After playing a critical role for the Saints across half-back in both 2009 and 2010, Gilbert was rewarded with an All-Australian nomination in 2009 and a third-place finish in the Trevor Barker Award in 2010.

Now, at 31 years of age, Gilbert is the oldest player on St Kilda's list and is the last bastion of that far-off era of on-field dominance; he's the only grand final representative still at the Saints.

This longevity has not been without difficulty, though.

Gilbert endured a slump in form after his 2010 season before being marred by persistent injury in 2013-2015, during what could have arguably been his best years of football.

A hyper-extended leg, a relentless foot injury, a broken hand and multiple stints in the VFL slowed his career, but the rugby league convert was determined to repay the faith shown in him by the club.

In more recent years, Gilbert has become the ultimate team player. He has played as a defender, midfielder, forward, chop-out ruck and wingman. What Alan Richardson asks, Gilbert does without question.

This Saturday sees the 31-year-old become just the 30th player in St Kilda's 145-year history to play 200 games for the Saints.

The long road to 200 seemed almost unattainable for Gilbert during his injury-ravaged years, but this persistent, loyal Saint deserves the milestone as much as anyone.