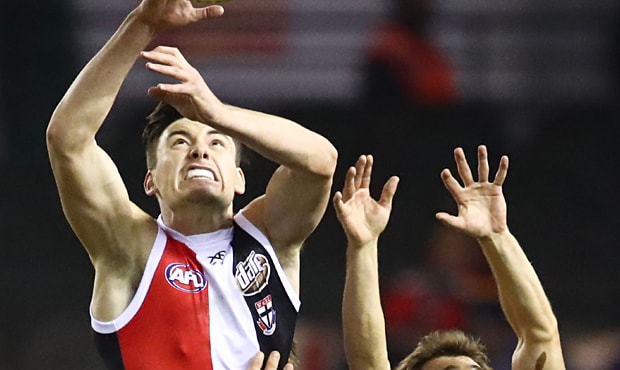 He'll certainly get another opportunity next week against Gold Coast.
Alan RIchardson
Josh Battle knows better than most just how tough the long road to senior football can be.
The 19-year-old Saint played just his second game in the red, white and black on Saturday night, and while his team were put to the sword in the first term, it was Battle that stood up in the fight.
The athletic forward cut the figure of a man possessed, hunting the football whenever it was in his vicinity, and he showed a hunger for the contest that others seemed to lack early on.
That's a great run down from the second-gamer Josh Battle!#AFLSaintsSwans pic.twitter.com/r3mRfHSL8h

— AFL (@AFL) June 9, 2018
Within the first three minutes, Battle had flown three times into the fray to crash a pack, bringing the ball to ground each time and showing all the signs of an experienced, dangerous forward.
Senior Coach Alan Richardson was delighted with the second-gamer's performance and singled the youngster out as one of the only Saints who were "at the level" in the opening quarter.
"Josh Battle was a shining light out of the game," Richardson told saints.com.au.
"He kicked a couple of goals, but it was probably more his physicality, his ability to be able to put enormous pressure on when he had the opportunity to tackle."
Swans outclass slow-starting Saints
Battle's desire to make an impression was obvious and was best encapsulated by two bone-crunching tackles in the first half to win back possession.
"I thought some of his tackles were tackles where someone's prepared to sacrifice their body, take a bit of heat and wear one for the team, and he did that," Richardson said.
"The young fella showed some signs, so he'll certainly get another opportunity next week against Gold Coast."

Saints fans can expect to see a lot more of the No. 26 in red, white and black.
Battle also made an impact on the scoreboard, booting 2.1 to be the Saints' only multiple goalkicker on a night where majors were at a premium for his side.
With his second senior hit-out now under his belt as well as the backing of the coach, Battle is already looking to steady the ship at St Kilda and correct his side's lacklustre start to the season.
"Me and 'Steeley' were just actually talking about (leadership) – that we can't just leave it up to 'Sebby' and Jack Steven," he told Channel 7's Cameron Ling post-match.
"We're a pretty young group, so we need to grab it by the throat and lead this club forward."
Hear from Alan Richardson post-match
Half-back Jimmy Webster was his usual influential self, racking up 24 disposals at 79% efficiency, including 17 kicks and seven contested possessions.
With nine intercept possessions, Webster was the clear standout in St Kilda's defence, and the 25-year-old playmaker was again able to set up from the back with his elite left boot.

Jimmy Webster's performance off half-back was among the Saints' best.
After an early Swans blitz and with his side trailing by 48 points at quarter-time, Richardson delivered a scathing address which revolved around one word: "unacceptable".
"We were smashed, just beaten comprehensively everywhere by an outstanding footy team," admitted the senior coach.
"We weren't in the fight … we weren't in the game. They were a ruthless footy team and we were far from that.
"It was an unacceptable performance in terms of the physical commitment required to play AFL footy full-stop."
DARE Sainter of the Day: Jimmy Webster
The young Saints struggled to recover from the early onslaught, eventually going down to the third-placed Swans by 71 points.
"It was unacceptable to not be where we needed to be at the start of the game," Richardson said.
All eyes now shift to St Kilda's trip to Metricon Stadium next Saturday night, where Richardson said the Saints can show their mettle.
"We have the opportunity to respond. If teams care, and players care, then that's what we'll do."