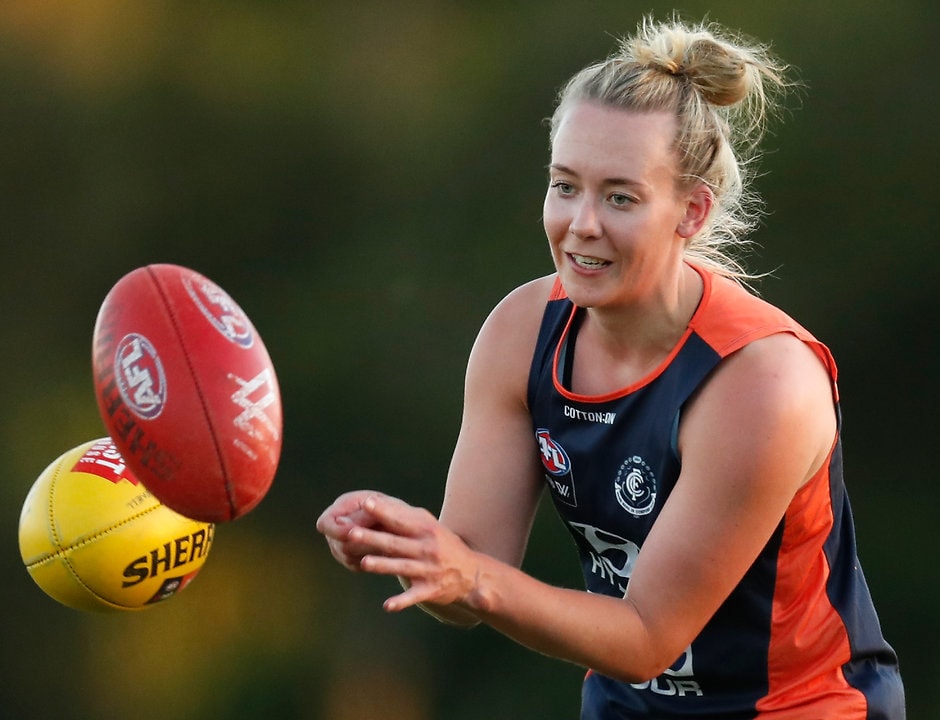 The Southern Saints have been bolstered by an injection of some serious experience in the form of AFLW-listed star Lauren Arnell.
The inaugural captain of Carlton's AFLW side, Arnell will ply her trade in the VFLW this winter before heading north to join Brisbane in the AFLW over summer.
Reflecting on her role as Carlton's first ever female captain, Arnell admitted that she hadn't appreciated the significance of the job.
"The opportunities and the gravity of playing a role like that is pretty huge," she said.
"It was certainly a huge honour, huge responsibility and something I really enjoyed doing at the time.
"No one could've predicted what [the AFLW] does for people's mindset, not just in footy, not just in sport, but in society in general; I think it's pretty special.


Lauren Arnell brings a wealth of experience to the Southern Saints
The 31-year-old boasts one of the most impressive football resumés in the country, with no less than 10 premiership medals to her name, and brings a wealth of experience to Peta Searle's young side.
"I don't actually know many of the players at all, in fact there's more I've coached than those who I've played alongside," she told saints.com.au.
"I think it gives me an opportunity to really grow and develop as a player and work with some younger players.
"It's a good chance for me to be in a new environment, and probably just really prepare well for the next opportunity that's coming for me."
In their first competitive season in the VFLW, the Southern Saints have turned plenty of heads and currently sit sixth on the ladder at 3-2.

READ: Drennan drives Southern Saints
A significant factor in Arnell deciding to see out the Melbourne winter at the Saints is due to her ABC Radio colleague and Southern Saints assistant coach, club legend Nathan Burke.
"He's been actually a really strong mentor for me over the last 12-18 months, not just in my playing, but obviously with my work as well, and just as a general human, he's a very special person," she said.
Arnell is revelling in the new footballing environment the Southern Saints have provided, and the ten-time premiership player hopes to pass on some of her considerable experience and leadership to the young group.
"It's very different to where I've spent my time probably in my whole career, and certainly my number one priority right now is to play and enjoy playing," Arnell said.
"I think we've got a really nice group of girls who have got a really strong mindset of learning, and obviously really raw, but I think what the Saints are building here is going to be pretty special."
The Southern Saints host the Northern Territory Thunder at 11:15am at Skybus Stadium this Saturday 23 June.



The views in this article are those of the author and not necessarily those of the AFL or its clubs