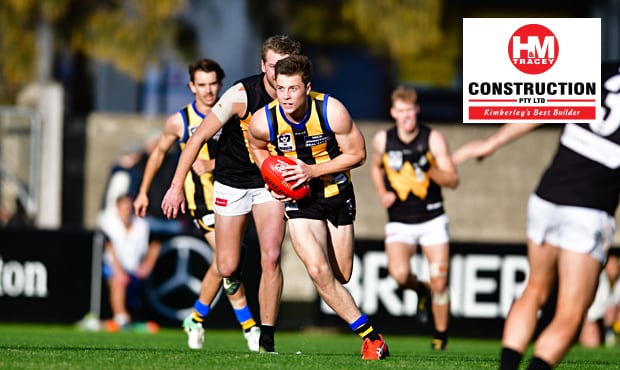 Season 2018 has been a tale of ups and downs for Sandringham, as we review the season so far in the first year of Aaron Hamill's tenure at Trevor Barker Beach Oval.
Hamill's side started the year in fine fashion, winning the opening two rounds against Footscray and Geelong.
With several Saints rotating through the team each week, the Zebras will be looking for greater consistency in the second half of the season as they look to build on their four wins.
Round 1 vs Footscray – WIN (21 points)
The perfect start for 2018 under new coach Aaron Hamill, Sandringham had to fight hard after conceding six goals in the opening term. A nine-goal second half was the catalyst for victory, with Josh Battle impressing with three majors and Jack Steele dominating through the middle with 35 disposals and 11 tackles.
Best: Jack Steele, Hunter Clark, Josh Battle
Elevated: Jack Steele
Round 2 vs Geelong – WIN (2 points)
In what was a low-scoring but brutal contest at GMHBA Stadium, the Zebras trailed the Cats all day but kept plugging away, before a late goal from experienced Saint Mav Weller proved decisive.
St Kilda veteran David Armitage put his name up for an immediate AFL recall after finishing with 34 disposals (22 contested), nine clearances and seven tackles.

READ: Armitage fires for Zebras
Best: David Armitage, Nathan Wright, Mav Weller
Elevated: Mav Weller
Round 3 vs Port Melbourne – LOSS (10 points)
In what was Sandringham's first loss for 2018, Port Melbourne trailed the Zebras' by eight points at quarter time. An inaccurate 10.15 marred the Zebras' chances in a tight loss where David Armitage backed up with another dominant midfield display.
Best: David Armitage, Ed Phillips, Nathan Wright
Elevated: Nil
Round 4 – BYE


Nathan Freeman made his return through the VFL in Round 5

Round 5 vs Box Hill Hawks – LOSS (64 points)
The trip to Box Hill is one of the toughest assignments in VFL football and the Zebras found out the hard way. Up against a Box Hill team littered with Hawthorn talent, Sandringham conceded ten goals in the second half whilst only managing four themselves.
But the successful return of Nathan Freeman was a good news story for St Kilda fans, who also witnessed a 37-disposal haul from promising youngster Ed Phillips.
Best: Nathan Freeman, Ed Phillips, Jack Sinclair
Elevated: Ed Phillips (AFL debut)
Round 6 vs Essendon – LOSS (21 points)
In a tough afternoon for Aaron Hamill and his side, the Zebras struggled to convert opportunities and trailed at every change at Trevor Barker Beach Oval. The ex-Saint rued the missed opportunities late in the game, where it was there to be won.
Defenders Brandon White and Bailey Rice competed strongly in a back half that was under wave after wave of pressure for most of the afternoon.

READ: Rice and White outstanding
Best: Brandon White, Bailey Rice, Jack Lonie
Elevated: Jack Lonie, Bailey Rice (AFL debut), Jack Sinclair
Round 7 vs Richmond – LOSS (65 points)
Sandringham proved no match for a strong Richmond outfit at Beaconsfield, as the Tigers piled on ten second-half goals to the Zebras' three behinds. Nathan Freeman injured the AC joint in his shoulder early in the game, offsetting the Zebras' focus.
St Kilda defender Brandon White was outstanding to finish with 33 disposals and 12 rebound-50s, while youngster Ben Paton provided plenty of run and gathered 19 disposals.
Best: Brandon White, Ben Paton, Josh Battle
Elevated: Logan Austin (AFL debut), Dan McKenzie, Brandon White
Round 8 vs Werribee – WIN (51 points)
In what was arguably Sandringham's best performance of the season, the Zebras couldn't have hoped for a better start than their six-goal opening term.
Aaron Hamill's team finished with 21 goals for the match, where St Kilda midfielder David Armitage finished with 39 disposals and ten tackles. Ben Paton continued his strong VFL form with another 24 disposals.
Best: David Armitage, Ben Paton, Josh Battle
Elevated: Rowan Marshall


Round 9 vs North Melbourne – LOSS (57 points)
The absence of St Kilda ruckman Billy Longer was sorely missed against the strong-fielded North Melbourne, with Brayden Preuss dominating the hit-outs and giving the 'Roos first use.
Sandringham's inaccuracy hurt them on the scoreboard, but despite the loss, draftee Nick Coffield was outstanding with 31 disposals and David Armitage finished with high numbers again.
Best: Nick Coffield, David Armitage, Nathan Wright
Elevated: Josh Battle, Nick Coffield
Round 10 vs Frankston – WIN (122 points)
Sandringham's biggest winning margin of the season came in the form of the inaugural VFL Pride Cup with the two St Kilda assistants – Aaron Hamill and Adam Skrobalak – coaching head-to-head for the first time.

READ: Hamill v Skrobalak
Jack Billings was the story, amassing 54 disposals and three goals. Josh Bruce finished with four majors, while David Armitage picked up 41 disposals to push their claims for AFL recalls.
Best players: Jack Billings, Josh Bruce, David Armitage, Billy Longer
Elevated: David Armitage, Jack Billings, Billy Longer
Round 11 vs Williamstown – LOSS (68 points)
In torrid conditions that were labelled the worst in years down at Williamstown, the Zebras were kept goalless for the first time in the club's history.
St Kilda veteran Sam Gilbert finished with 24 disposals and six tackles through the midfield, and ruckman Tom Hickey dominated with 58 hit-outs.
Best: Sam Gilbert, Tom Hickey, Brandon White
Elevated: Nil


Conditions were some of the worst seen in years at Williamstown.
Round 12 – BYE
INDIVIDUAL HONOURS: THREE-PEAT
Rising star – Nick Coffield
Despite having only featured for Sandringham at VFL level twice this season, St Kilda's top 10 draft pick has shown he's a player who belongs at the elite level and is an exciting midfield talent.
Draftee Coffield was Sandringham's leading ball-winner with 31 disposals and five tackles in the Round 9 loss to North Melbourne, with the ex-Northern Knights skipper averaging 23 disposals and five tackles per VFL outing this season.

READ: Get to know Nick Coffield
Setting a platform – Billy Longer
It's been a tough season for the 25-year-old ruckman, biding his time in the VFL while Tom Hickey assumes the main ruck role at AFL level. That hasn't deterred Longer, though, who in his seven VFL games is averaging 51 hit-outs.
Longer earnt an AFL recall after a dominant VFL performance against Frankston in Round 10, where the former Brisbane Lion finished with 48 hit-outs and a goal.
Standout performance – David Armitage v Geelong (Round 2)
In a game that was decided by less than a kick, every contest mattered, and the experienced Armitage led the way. The 29-year-old finished with 34 disposals (22 contested), nine clearances and seven tackles in what was the first of his five VFL games this season.
Sandringham coach Aaron Hamill has been full of praise for what the veteran midfielder brings each week, where he's averaging 35 disposals and seven tackles per VFL game.
THE ROAD AHEAD
Sandringham will be looking to close the gap between their best and worst performances and improve on last year's eight wins.
The Zebras have a tough couple weeks away against Port Melbourne and Coburg, before a three-week slot back at Trevor Barker Beach Oval against finals aspirants Geelong, Richmond and the Box Hill Hawks.
Aaron Hamill's side will have another bye in Round 18 before away clashes against the Casey Demons, Northern Blues and Collingwood to finish the season as they push for a finals berth.
The views in this article are those of the author and not necessarily those of the AFL or its clubs