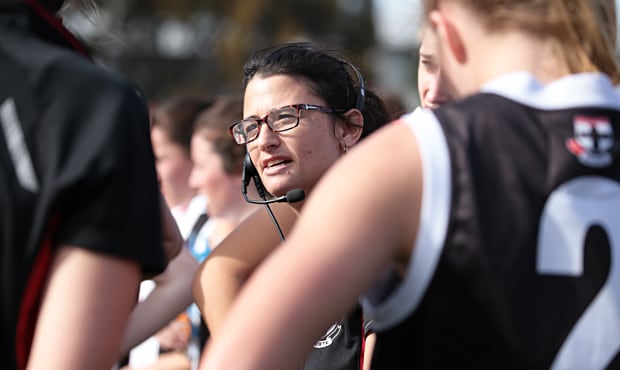 Southern Saints head coach Peta Searle has been confirmed as one of fourteen members of the inaugural AFL Women's Competition Committee.
The role of trailblazer is not an unfamiliar one to Searle, who in 2014 became the first ever female AFL coach when she took on the role of Development Coach at St Kilda.
WATCH: The Peta Searle story
Having won five premierships as a player and another five as a coach of women's football, Searle's extensive experience made her the natural choice for the inaugural head coach of the Southern Saints, St Kilda's first female affiliate team.
The Southern Saints have turned heads for all the right reasons in their first VFLW season and currently sit 6th on the ladder with four wins, with a host of Saints now renowned as genuine stars of the competition.
The Competition Committee membership becomes the latest string in Searle's already impressive bow.
AFL Head of Women's Football Nicole Livingstone said the Committee represents a balanced cross section from the AFL Women's football industry.
"The Committee represents a good mix of foundation, 2019 and 2020 clubs, a variety of roles performed within the industry, along with a geographical spread, ensuring ideal representation from our industry as we continue to develop the women's league," Ms Livingstone said.
"As we prepare for our third AFLW season, this Committee will play a critical role in developing the women's game in a sustainable way, ensuring its future growth and prosperity.
"I thank all the clubs for their nominations and I look forward to the future collaboration."
READ: Southern Saints mid-season review
The AFLW Competition Committee will meet three times a year with the first meeting to occur in August.
Like the men's Competition Committee, the AFL Commission will retain final decision-making authority.