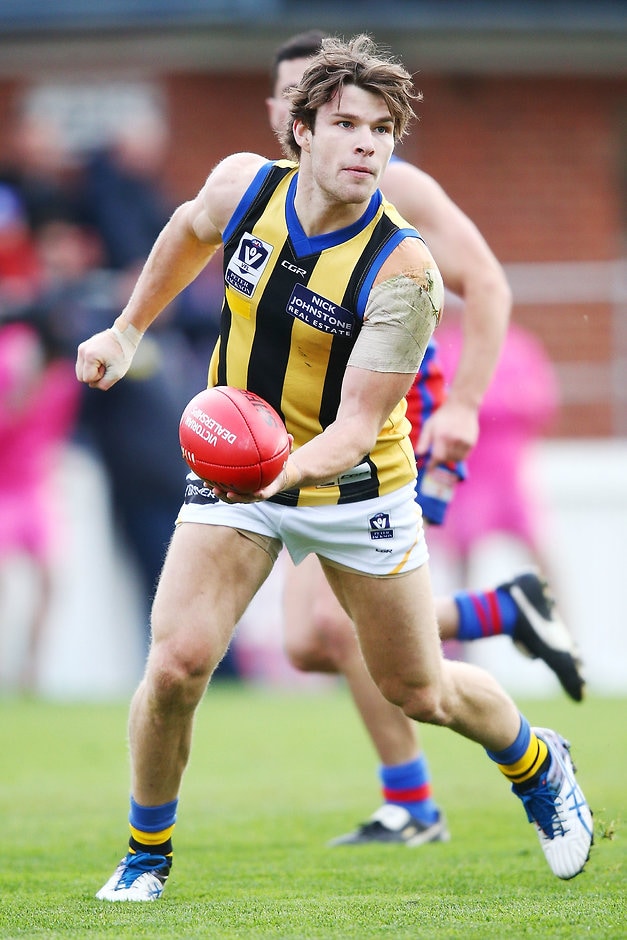 I think, like Freeman, 'Pato' will certainly be in the conversation come match committee.
Aaron Hamill
Sandringham Senior Coach and St Kilda Specialist Coach Aaron Hamill has his say on the Saints' best performers in the VFL.
Nathan Freeman 20 kicks, 17 handballs, 13 marks, 0 tackles
Everyone's on Freeza watch, myself included. I've worked closely with Nathan over a couple of years, and no-one would be prouder to see him get a game than myself. He had a really good influence on the game. He didn't lay a tackle, so defensively let himself down a little bit there, but in terms of ball use, he played wing and had 32 uncontested, so his outside game's really good. We're yet to have match committee, but certainly, he'll be discussed.
Hugh Goddard 10 kicks, eight handballs, 10 marks, three tackles
Hugh's been very good in terms of marking the footy the last three weeks in particular. He's going really well in terms of his body positioning as well as his ability to read the ball in flight, take stock and mark the ball, which alleviates a lot of pressure. He's certainly improving, Hugh, his last three weeks have been probably more like the Hugh Goddard that we know, and he's got a real clear mindset about what we want to do with the footy.

WATCH: Goddard highlights from Round 17
Bailey Rice 17 kicks, six handballs, five marks, one tackle
'Bails' was pretty stiff to be dropped, but it's not the first time he's been left out and he's still developing as a defender. He was really safe with the ball and set us up really well from deep in defence. He always looks to move the ball really quickly for us; his ball use is really good, his contest is elite, and generally, his defence has been pretty solid.
Ben Paton 17 kicks, four handballs, eight marks, six tackles
We played 'Pato' on the wing a little bit, as well as on the inside, where he's improving every week with his body positioning, and then we threw him forward a little bit as well. In his first year of footy, he's taken the right steps forward, so I think, like Freeman, 'Pato' will certainly be in the conversation come match committee.
Darren Minchington Nine kicks, seven handballs, two marks, five tackles
It was a good return for 'Meaty', he didn't have a great influence in the first half, but then he got busy late, particularly in the last quarter. His centre bounce work was of the highest quality, so we've just got to get his body consistent. He pulled up well, so we'll get a full game into him as an inside mid next week and he can then progress.
Ben Long Four kicks, three handballs, two tackles
It was good for Longy to play again, albeit on restricted minutes. He was out for three months, which is significant … 12 games, he's missed. We know how important he's going to be for this footy club moving forward, and he's made of the right stuff. He's got a heap of speed, loves the contest and is very skilful. We've certainly missed him at AFL level, with his dynamic play and his elite pressure.