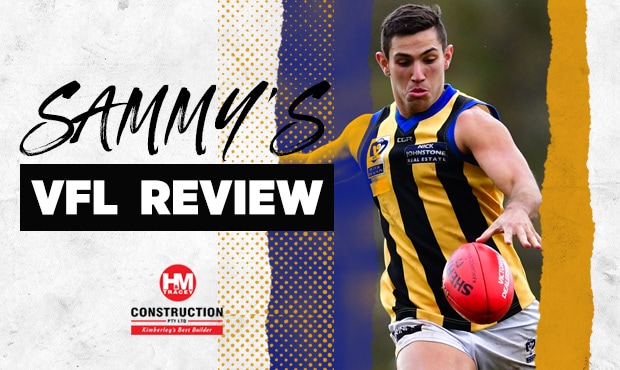 There'd be no reason why he can't have an influence over hopefully a long and illustrious career at the St Kilda Football Club.
Aaron Hamill
Sandringham Senior Coach and St Kilda Specialist Coach Aaron Hamill has his say on the Saints' best performers in the VFL.
Hugh Goddard 16 kicks, 6 handballs, 14 marks, 2 tackles
It stands to reason that Hugh has earned the right to be in the conversation, and I think on the back of his positioning and his ability to mark the ball in contested situations, he was able to compete really strongly for us. He's put together a really good solid month for us, Hughy, and that'll hold him in good stead.
Darren Minchington 18 kicks, 8 handballs, 5 marks, 5 tackles
Darren Minchington played his first game for the year in Round 20, and he was excellent inside. The pleasing thing for 'Minch' is that he's getting time and minutes into him and he's handling the workload; he pulled up well after a full game. Over time, he'll be able to get more consistency in his body and hopefully play more games with us at AFL level.
WATCH: Goddard VFL Highlights (Round 19)
Luke Dunstan 19 kicks, 13 handballs, 2 marks, 8 tackles
Luke Dunstan played his first full game in five weeks, as he's been coming off the back of 80 minutes at AFL level. His read and react, along with Minchington, was really good, so those two bounced off each other a fair bit in there.
Ray Connellan (3.0) 6 kicks, 5 handballs, 5 marks, 3 tackles
Ray's back half of the year has been really good, particularly the last five weeks. Considering our entries and the opportunities that he's been getting, he's making the most of them. He knows as a small forward he's got to apply enormous pressure and crack in at the right time and apply defence on the way out. He's working exceptionally hard with Benny McGlynn, who was a real clever small forward in his own right. He's absorbing a lot and he's banging the door down – he probably needs to do it for a little bit longer, but he's starting to get some consistent footy into him.
Oscar Clavarino (1.0) 6 kicks, 7 handballs, 4 marks, 1 tackle
Oscar's starting to get a fair bit of belief in terms of his strengths. In his first year, he's picking up a lot, he's developing really well, he's got really good nous of where to position himself. He wants to learn a lot about the game, and he's heavily invested into being the best he can be. There'd be no reason why he can't have an influence over hopefully a long and illustrious career at the St Kilda Football Club.

PHOTOS: VFL Round 19
Doulton Langlands (1.1) 4 kicks, 2 handballs, 5 marks, 5 tackles
'Doults' does like the gym, and he's doing a good job in there. He's developing nicely and played more forward on the weekend as we had Coffield on the wing. He showed some promising signs, and we've got to get a bit more forward craft into his play to keep him developing.
Listen to the full podcast below: