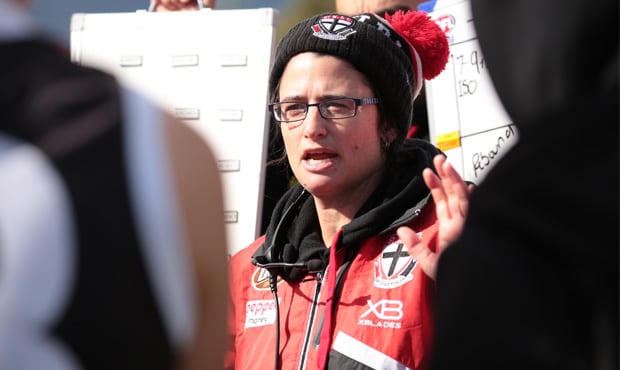 Collingwood had stronger, bigger bodies and that definitely showed...we were a bit timid.
Peta Searle
The Southern Saints were left smarting after league-leaders Collingwood dealt the young side a 38-point beating at Ted Summerton Reserve on Saturday afternoon.
In cold and wet conditions, the Southern Saints were on the back foot early after the Pies slotted three first-term goals before Peta Searle's side doubled down on their defensive pressure to hold the Pies goalless in the second term.
A third-quarter lapse saw Collingwood's Daisy Bateman add another two goals, the Pies capping of their win with another goal in the 16th minute of the last to close the match.
Searle said it was the players' belief going into the contest that let the side down.
"Collingwood had stronger, bigger bodies and that definitely showed," Searle admitted post-match.
"We were a bit timid and second to the ball, and when we got the ball, we were under a lot of pressure."
READ: Georgia Walker calls time
One player that stood out despite the loss was Georgia Ricardo, who Searle said had played well until a head knock in the fourth quarter put an end to the 19-year-old's day.
"The last couple of weeks have been really positive for her," Searle said.
"She's playing a new role in the backline and has demonstrated how important it is to have good users bringing the ball out to connect. She's been really strong in that role."
Another two Saints that impressed the Saints coach were duo defenders Kelly Thompson and Jas Rolland.
"If the ball went down there and Kelly or Jas were near the contest they were likely to win it, and if they weren't (near the contest), the Pies were likely to score. That's probably the way the game went," Searle said.
With the Southern Saints in seventh position on the ladder and out of finals contention, the team now turns its attention to the final game of 2018, when they host Richmond at SkyBus Stadium next week.
"You want to go out being proud of your year, and it has been a good year," Searle said.
"We've shown that when we bring it, we are a good footy side.
"We need to make sure we bring it and compete and give ourselves a good opportunity to finish strong."
COLLINGWOOD 3.2 3.3 5.6 6.6 (42)
SOUTHERN SAINTS 0.1 0.3 0.3 0.4 (4)
BEST K. Thompson, J. Rolland, G. Ricardo, S. Heath, M. Maitland, A. Brown
NEXT UP
Southern Saints v Richmond
11am Saturday 25 August, SkyBus Stadium