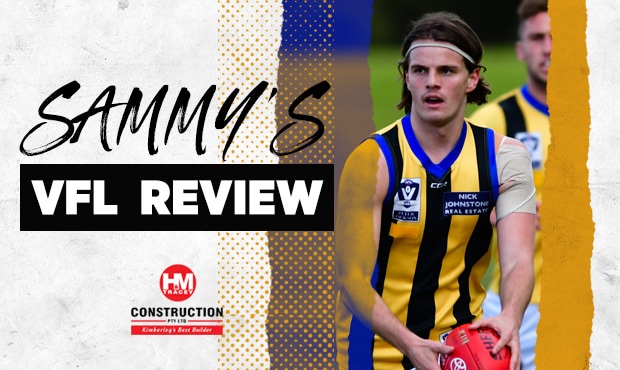 Ed's certainly improved this year and we think he can add a lot of value to the program for years to come.
Aaron Hamill
Sandringham Senior Coach and St Kilda Specialist Coach Aaron Hamill has his say on the Saints' best performers in the VFL.
Ed Phillips 19 kicks, 15 handballs, 10 marks, 1 tackle
He certainly will be discussed, Ed. He's put some back-to-back performances together on the wing, which has been really good for him. He's kept himself really healthy, and he's a really keen learner – he wants to be a student of the game. He used the ball a little bit better than previous weeks, so he keeps building nicely...Ed's certainly improved this year and we think he can add a lot of value to the program for years to come.
Luke Dunstan 25 kicks, 8 handballs, 4 marks, 8 tackles
Luke was really good. You know what you're going to get with Luke, so he's a pleasure to coach. We know he's got a heap of grunt inside, he either wins the ball or makes the tackle as an inside mid. His positioning was critical, as was his read and react and his hunt for the footy, most clearances he had to fight for. His leadership is really solid, and he's performing accordingly.
WATCH: Ed Phillips VFL Highlights (Round 20)
Mav Weller (1.0) 7 kicks, 14 handballs, 2 marks, 6 tackles
He's going OK, Mav, in terms of his role and what he's got to do. He played well for us on the day, and there wasn't much else up forward to kick to. Mav was solid in the contest, defended really strongly for us and got on the end of one.
Hunter Clark 12 kicks, 8 handballs, 3 marks, 3 tackles
With Hunter and 'Coff', it's about unleashing them in the AFL environment when they're ready and capable – there's no rush to get them in when they're not right. When they're right and they can contribute on a consistent basis, they'll be playing, and as we've seen this year, Hunter's played some really good AFL footy for us. He's played forward, mid, wing, back, so he's played quite a different role for us every time he's been at the AFL level.
Nick Coffield 9 kicks, 10 handballs, 5 marks, 2 tackles
We know that Nick's picking up a lot in his first year, and it's our job to create an environment where both he and Hunter can thrive. As a first-year player, from my point of view there's certainly no rush to throw them into the deep end or an AFL environment if they're not quite ready. Nick's been really good at AFL level as a half-back and through the midfield, and he's got a lot to offer the club for a long period of time.
READ: Phillips, Dunstan fire for Zebras
Nathan Freeman 8 kicks, 6 handballs, 3 marks, 2 tackles
Getting omitted was just another hurdle for 'Freeza', he's probably jumped 100 of them, so why not another? He's been really good, really strong and positive. He wants to contribute and do the right thing by his mates at VFL level, and he certainly wants to prove not only to himself but to others that he can play at the highest level, so it was just another little hurdle for him. He played wing on the weekend and was serviceable until he got knocked out a minute into the last quarter, so not ideal but hopefully he gets up to play this week. He understands where he's at and he's got to earn his spot back.