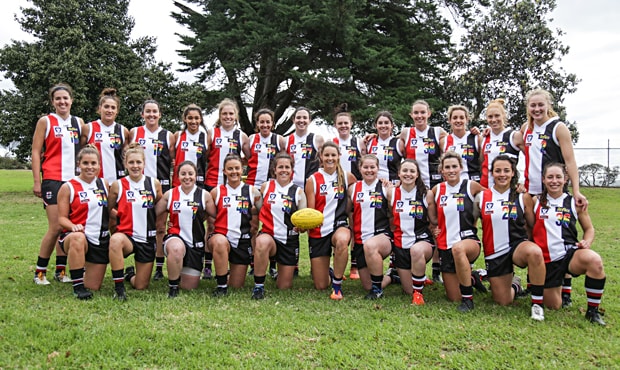 It's about St Kilda, it's about what the club has given them, but it's also about what they've given each other.
Peta Searle
It was heartbreak again for the Southern Saints, going down by three points to Richmond in their final game of the VFLW season at Skybus Stadium on Saturday morning.
The Saints fought hard until the very end, as they've done all season, but weren't able to claw back the lead after a fourth-quarter onslaught from the Tigers.
Navigating through the Frankston fog, Courteney Munn continued her impressive form up forward, while Georgia Ricardo's hard work in defence kept the Tigers largely at bay.
The Saints won more of the ball but couldn't make the most of their opportunities as a tight-knit Richmond defence kept the margin close all game.
READ: VFLW Preview (Round 16)
The Saints drew first blood, with Munn goaling on the run from 30 metres out.
But the celebrations were short-lived, as a Tigers response came almost immediately, leaving the scores level at quarter time.
A goalless second quarter saw the Saints' attacking efforts stymied by Richmond's defensive pressure, scoring just one behind to take the lead.
17-year-old pocket rocket Gabby De Angelis kicked the first goal of the third quarter, with her left snap from the boundary sailing through to extend the Saints' lead.
The tight contest continued throughout the third quarter, before a goal from the Tigers brought the margin back to just two points heading into the final break.
Richmond came out of the blocks hard in the final term, kicking two goals to take the margin out to nine points with five minutes left to play.
Another goal from Munn in the dying minutes wasn't enough to bridge the gap, leaving the Saints heartbroken as the Tigers ran away three-point victors.
FT

Heartbreak in the final quarter for our girls, but in true Saints fashion we fought hard until the very end ❤️😇💪🏼

Saints - 22
Tigers - 25#HalosOn pic.twitter.com/1b2mrDmsFH

— Southern Saints VFLW (@stkildafcw) August 25, 2018
Head coach Peta Searle was proud of how her team stood strong against the Tigers' defensive pressure.
"The effort was there, we had more of the ball, but they set up well defensively and we couldn't penetrate past the defensive setup that they had," she said.
"That's the way it goes sometimes, some people play a defensive game of footy, some people play an attacking game of footy, and unfortunately their style won out."
Searle then took the opportunity to reflect on what playing for the Southern Saints meant for her players.
"Creating a good club culture was paramount, and the girls have created that and played some good footy on the way," she said.
"It's about St Kilda, it's about what the club has given them, but it's also about what they've given each other."
SOUTHERN SAINTS 1.0 1.1 2.3 3.4 (22)
RICHMOND 1.0 1.0 2.1 4.1 (25)